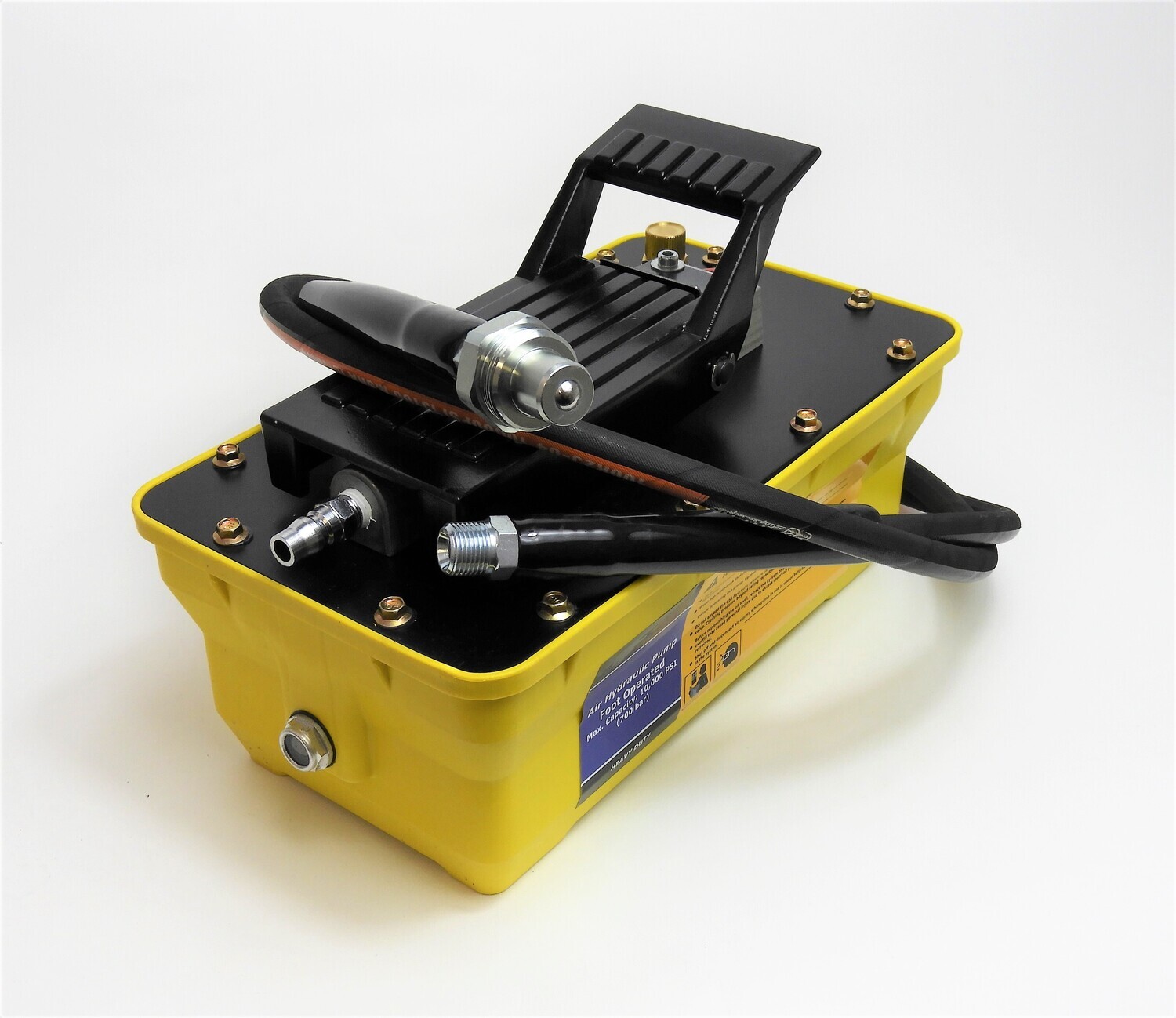 10,000 PSI Air Operating Hydraulic Pump 2M Hose & Couplers
SKU 10101
Cost effective time saver!
Product Details
Customer Feedback

This is what our happy customers say
Mr M S Stock wrote "Fantastic. Solid build."
Brett from Hamilton Vic. Great Product, fast delivery, Thanks
Supply this pump with 100 PSI of compressed air and it will generate up to 10,000 PSI Hydraulic Oil pressure to actuate or operate any single-acting implement or attachment.
Supplied with a 2 m long ultra high pressure hose and screw together couplers.
Special Features
All metal heavy duty pump
Larger than average 2.3 litre Impact-resistant Oil tank with a convenient oil level sight glass.
2 m long Flexible Oil supply hose with bend restrictors for longer life and Screw together couplers.
Most people acquire this popular pump and hose package because it gives them more speed, more control and more safety than the slow manually actuated hand pumps.
Used by Auto Body Repair Shops, Mechanical & Fabrication shops as well as in the field by mechanics to more quickly Press, Pull, Push and Pry Apart and by Boilermakers to Punch, Bend, Shear, Cut or Twist materials using specialist High-Pressure Hydraulic cylinders, rams and attachments.
Safe for mining environments, and or other situations when electricity and possible sparks are prohibited.
Applications include
High-pressure supply for scissor lifts for lifting cars and motorcycles.
Supplying cylinders attachments in collision repair shops and Auto body frame pulling machines and racks.
Clamping cylinders in fabrication Workshops.
Pipe and Tube Benders
Frame straighteners in auto collision centres.
Spreading attachments in mechanical workshops
Axle correction in trucks buses and other transport equipment
Suspension and alignment workshops.
Depending on the size of Jacking Cylinder used and the air pressure supplied you can generate massive lifting or pressing forces.
Torque Multipliers in oil, gas and mining equipment applications.
Bolt tensioners and nut splitters
Cable crimpers and terminations for electrical, marine, fencing and safety barriers.
Bridge Jacking.
This ENGMATTEC Pump uses the principle of Intensification to generate 10,000 PSI of oil pressure with only 120 PSI of Compressed air.
If you want to modify your existing press hoses to fit this air operated pump please see the following video. Video Time Stamps

1:02 Unboxing, Pump Hose and Couplings,
2:05 Assembly and Testing
4:25 Filling with hydraulic oil and Priming pump
7:05 Pressure Testing on 50 Ton Capacity press.
8:15 Using the Pump to press on a small bearing
8:56 Fun with a 50-ton press

Widely Used by Auto body shops, Panel Beaters, frame straighteners, Suspension shops, Hydraulic presses, Mechanical Workshops, Car jacks, Scissor Lifts, Rescue equipment, Torque Multipliers, Punches, Shears Expanders and Cutters.
Pull cylinders for structural steel, panel beating, automotive repairs, shipbuilding and cable or tower tensioning
This is a Quality unit Built with an all-metal pump assembly, heavy-duty seals, and a large 2.3 litre oil tank made from impact-resistant ABS plastic.
This unit is also fully rebuildable with parts kit readily available at reasonable prices.
Unique features include.
Vary the air in pressure in vary oil out pressure (minimum 60 PSI)
Hand or Foot operation
The units comes with a two-meter long Ultra high-pressure hose rated to 17,000 psi working pressure complete with a male high-pressure couplers and bend restrictors for longer hose life.
Oil level sight glass in tank wall
3 in one filler breather transport cap.
Larger than average impact-resistant Hydraulic oil tank with 2.3 litres capacity made from Partially recycled ABS Plastic.
Compatible and interchangeable with the majority of tooling manufactured for of by a large range of other air hydraulic pump manufacturers such as Fleet-Hydrol, Durapac, Enerpac, Simplex, SPX, Power Team, Porta Power, Porto power, Power ram, for all High pressure Pressing Bending Lifting Pulling Torque Multipliers Tensioning requirements.
Operation, Simple foot pedal or hand operation
Unit has a Simple three stage pedal operation, UP, HOLD, RELEASE.
Push forward pump starts to generate flow and pressure
Pedal to middle position pumps stops and holds the pressure and or load
Press Back and pressure is released and load is dropped or removed.
Provision for mounting to any surface using appropriate length self-tapping screws.
Unique breather/transport cap.
Ergonomically designed aluminium foot pedal (can also be hand actuated)
Powder-coated steel tank cover.
SINGLE ACTING AIR ACTUATED HYDRAULIC PUMP 10,000 PSI (685 BAR)

This Single-speed pump, simple operation and easily portable due to its lightweight, compact design. Pump output pressure can be easily adjusted by adjusting air input pressure with an air pressure regulator (also available from this Store) , for example
125 PSI compressed air input = 10,000 PSI oil pressure output,
62 PSI compressed air input = 5,000 PSI oil pressure output.
Air consumption at 100 Psi = 339 litres per minute.
Invest in this unique intensifying pump with confidence, we are a long established Hydraulic Service Center, your new acquisition will come with a 12 month warranty and an Australian Tax Invoice.

Single-speed pump, used to operate single acting High Pressure Cylinders and tooling.
We can also supply Compressed Air Filter Regulators Lubricators, please see our online store.
Air pressure regulator with Filter and Lubricator

This product is compatible with a wide-range of tooling and accessories from such brands as Fleet-Hydrol, Durapac, Enerpac, Power Team, and Porta Power
***Please note that this unit does not ship with oil; you will need to add 2.5 liters of ISO 32 or 46 hydraulic / or light machine oil to the tank to operate the pump ***
Air Supply
Reservoir
Oil
Weight
Required
Port
(lbs.)
(kg)
(psi)
(bar)
Capacity
Usable
(in.)
(cu. in.)
(Lt)
(cu. in.)
(Lt)
40-120
3 to 8
146
2.4
140
2.3
3/8 NPT
15.2
6.9
Item
Total Height
Pedal Height
Tank height
Length
Width
Mounting Hole Centers
Number
(in.)
(mm)
(in.)
(mm)
(in.)
(mm)
(in.)
(mm)
(in.)
(mm)
(in.)
(mm)
W-DA3
8.07
205
6.02
153
4.65
118
12.4
315
6.89
175
5.2 x 10.6
132 x 270

***Please note that this unit does not come with oil; will require 2.5 liters of hydraulic/light machine oil to operate***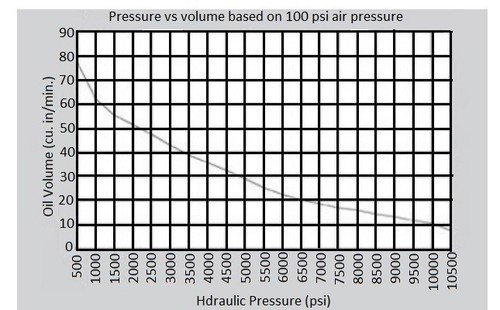 ---
ENGMATTEC is a registered trademark

Save this product for later
All your hydraulic needs in one place! Search products or browse categories below
Products on Hydraulic.Online are described and explained in non technical terms, with photos, charts and or videos. Most of our clients also tend to upgrade to more complete systems this is because they can pick up a phone and call us for a consultation. Call us and experience it for yourself! Australia +61 (07) 5563 1982.
(Hours 8am – 4pm Monday – Friday AEST, excludes National & QLD public holidays)