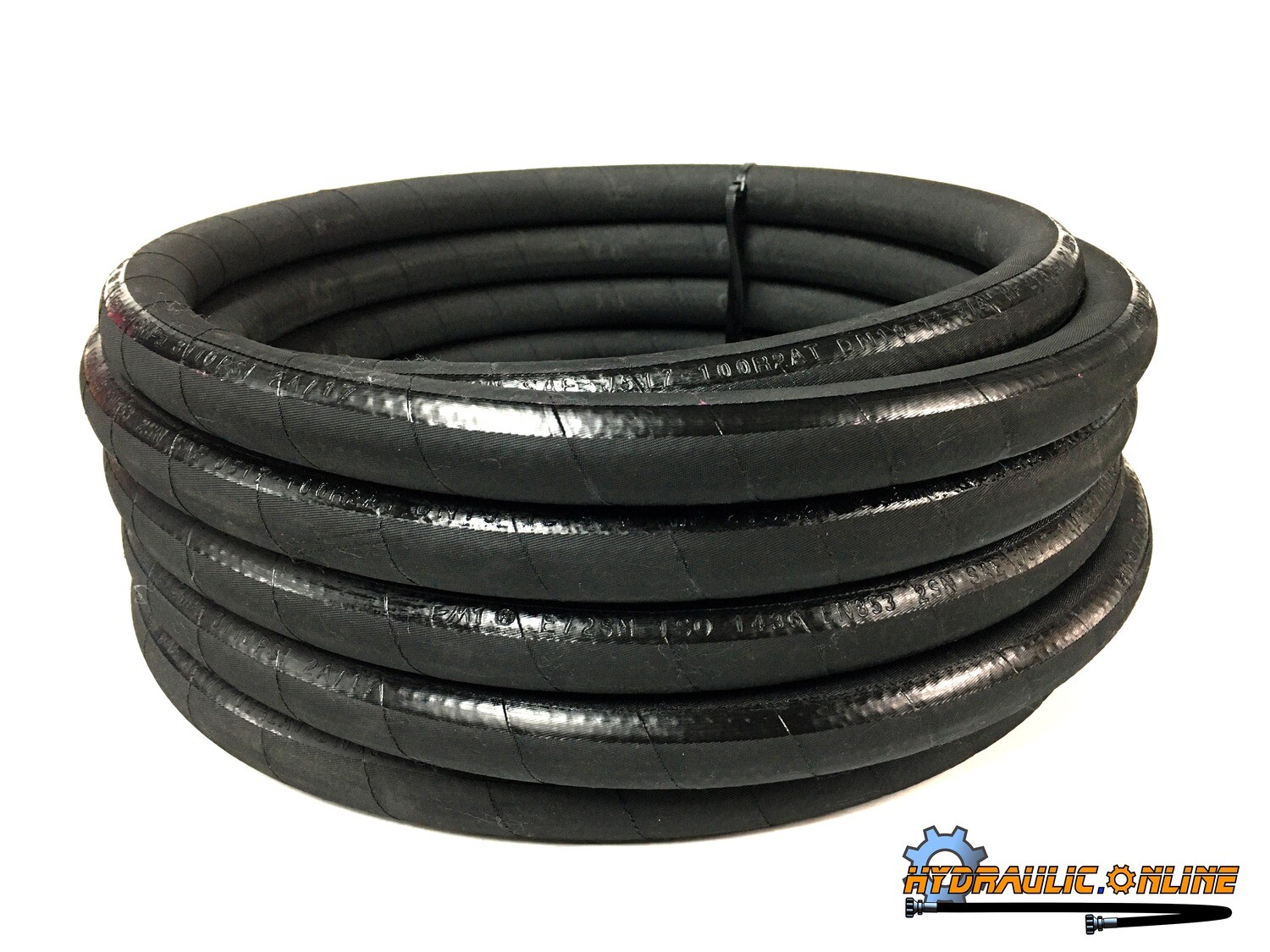 10m Roll Two Wire Hydraulic Hose 3/4" SAE100R2AT 3,120 psi
SKU GEN 100R212
Product Details
10 meter coil of 3120 psi high temp two-wire Hydraulic hose manufactured and Guaranteed to meet or exceed SAE100R2AT Specifications or your Money Back.
Need Help?
call us on (07) 5563 1982
Specifications
Size 3/4 inch bore.
Compatible with following Fluids, Hydraulic oils, Diesel Fuel, Water and Water Glycol mixes, Transmission oils, Vegetable Oils, and Bio Diesel and Compressed Air .
Pressure Range
Working Pressure: 3,120 PSI
Burst Pressure: 12,470 PSI (Minimum)
Range of Temperature
-40⁰C to + 120⁰C
Minimum Bend Radius
240mm
Weight
0.94 KG/Mtr Total packed weight 9.5 KG
We also offer 'Depot to Depot' freight as a cheaper alternative for larger items. Please call or email for this freight option

Buy with Confidence from a long established Hydraulic Service Center get a 12 month warranty and an Australian Tax Invoice.
This price is for online only.
100R2-12
This is a great quality hose made in SAE (Society Automotive Engineers) Specifications SAE 100R2AT-12.
SAE 100R2 – 12 NON SKIVE HOSE (Two Wire)
Our two wire hydraulic hoses are fully compatible, interchangeable or a direct replacement for many popular and more expensive hydraulic hose brands and types. See below for more details.
Buy it now online
https://www.hydraulic.online/store/100R2-Two-Wire-S...
and eBay Australia.
http://www.ebaystores.com.au/hydrauliconline/_i.ht...
This is a Non-Skive Hose which means the outer cover does not need to be removed before pressing or screwing on the appropriate Hydraulic Hose Fittings.
Most People Purchase and then Re-order the following four most common sizes of Two (2) Wire braided hydraulic hose and these 4 sizes are as follows.
100R2AT 1/4" DN6,
100R2AT 3/8" DN10,
100R2AT 1/2" DN12,
100R2AT 3/4" DN19.
Please contact us for detailed and accurate crimp dimensions
2 wire hydraulic hose is compatible with.
GATES 4G2, 6G2, 8G2, 12G2 and GATES High Temperature 4G2H, 6GTH, 8G2H, 12G2H
EATON GH195 AQP HI-IMPULSE hoses
MANULI FLUICONNECTO 2SN FL2T04 FL2T06 FL2T08 FL2T12
MANULI FLUICONNECTO ROCKMASTER 2SC H01030006 H01030010, H01030012, H01030019 (DOUBLE THIS HOSE'S BEND RADIUS, SLIGHTLY LESS WEAR RESISTANCE)
PARKER 301SN - 4, -6, -8, -12 NON SKIVE HOSE.
PIRTEK SAE 100R2AT,
SIZES R2AT-04, R2AT-06, R2AT-08, R2AT-12.
TOTAL RUBBER SUNFLEX SAE 100 R2AT EN 853 2SN,
SIZES HYD-R2T-04-SF-S, HYD-R2T-06-SF-S, HYD-R2T-08-SF-S, HYD-R2T-12-SF-S.
RYCO AVENGER SIZES, T24A, T26A, T28A, T212A and
RYCO DIEHARD SIZES, T24D T26D T28D AND T212D Non-Skive Hoses.
(with slightly less wear resistance)
HYDRAULIC TWO WIRE HOSE FOUR MOST COMMON HYDRAULIC HOSE BORE SIZES ARE AS FOLLOWS.,
100R2AT 1/4" DN6,
100R2AT 3/8" DN10,
100R2AT 1/2" DN12,
100R2AT 3/4" DN19
ALL THE Hoses listed above can also be used with the following branded hose fittings with the following part numbers.
Our own ENGMATTEC EMT 2 PIECE HOSE TAILS AND FERRULES ARE
AVAILABLE FOR BOTH One (1) AND Two (2) WIRE BRAIDED HOSE IN
04 - ¼"a, 06 - ⅜", 08 - ½",12 - ¾" and 1" - 16.
FOR EXAMPLE THE FOLLOWING SIZES AND THREAD TYPES ARE AVAILABLE
JIC FEMALE AND MALE HOSE TAILS SIZES, E12JF, E12JM,
BSP FEMALE AND MALE HOSE TAILS SIZES, E12BF, E12BM
ALL AVAILABLE WITH OUR OWN ENGMATTECEMT Crimp on NO SKIVE Ferrules
THAT ARE AVAILABLE IN THE FOLLOWING SIZE ENPR212 (¾")
Contact us for stock AND or Crimp Dimensions.
https://www.hydraulic.online/store/
THIS HYDRAULIC HOSE IS ALSO COMPATIBLE with the following Hydraulic Hose Fittings.
RYCO BITELOK ONE-PIECE CRIMP NON SKIVE T200 AND T700 hose tails.
EATON TTC / Z Series braided hose one-piece "bite the wire" style hose fittings.
Southcott Super Crimp S series stems with FNP-04, FNP-06, FNP-08, FNP-12 ferrules as well as Ezi-Crimp Non Skive One Piece Series E fittings.
CHILD FIELD FIT COUPLINGS Series RMB, RFB, RMJ, RFJ, with BN2-12 non skive Bodies.
RYCO FIELD ATTACHABLE L00 SERIES LOO-12 FERRULES and 600 SERIES INSERTS.
TAIPAN K SERIES ONE PIECE NON SKIVE HOSE TAILS
K12JF, K12JM and K12BF, K12BM or
Field Attachable D Series eg D12 Tails and D2 Series Bodies eg D2-12 Body.
Picture is off a hose of Similar Construction Hose and Appearance.

Construction
Synthetic rubber inner tube with Two layers of braided high tensile steel wire reinforcement and a wrapped, Oil, Ozone, weather and abrasion resistant synthetic rubber outer cover.
Application


High pressure service with petroleum base hydraulic fluids, water, Air, Water-glycol, water-oil, fire resistant hydraulic fluids, hot oil grease, lubricants, crude and fuel oils. For air applications above 100 PSI the cover should be pin pricked.


Need another hose size, field fit reusable fittings couplers and or adaptors for your application?
Just Contact us on (07) 5571 6155, (07) 5563 1982

Save this product for later
All your hydraulic needs in one place! Search products or browse categories below
Products on Hydraulic.Online are described and explained in non technical terms, with photos, charts and or videos. Most of our clients also tend to upgrade to more complete systems this is because they can pick up a phone and call us for a consultation. Call us and experience it for yourself! Australia +61 (07) 5563 1982.
(Hours 8am – 4pm Monday – Friday AEST, excludes National & QLD public holidays)