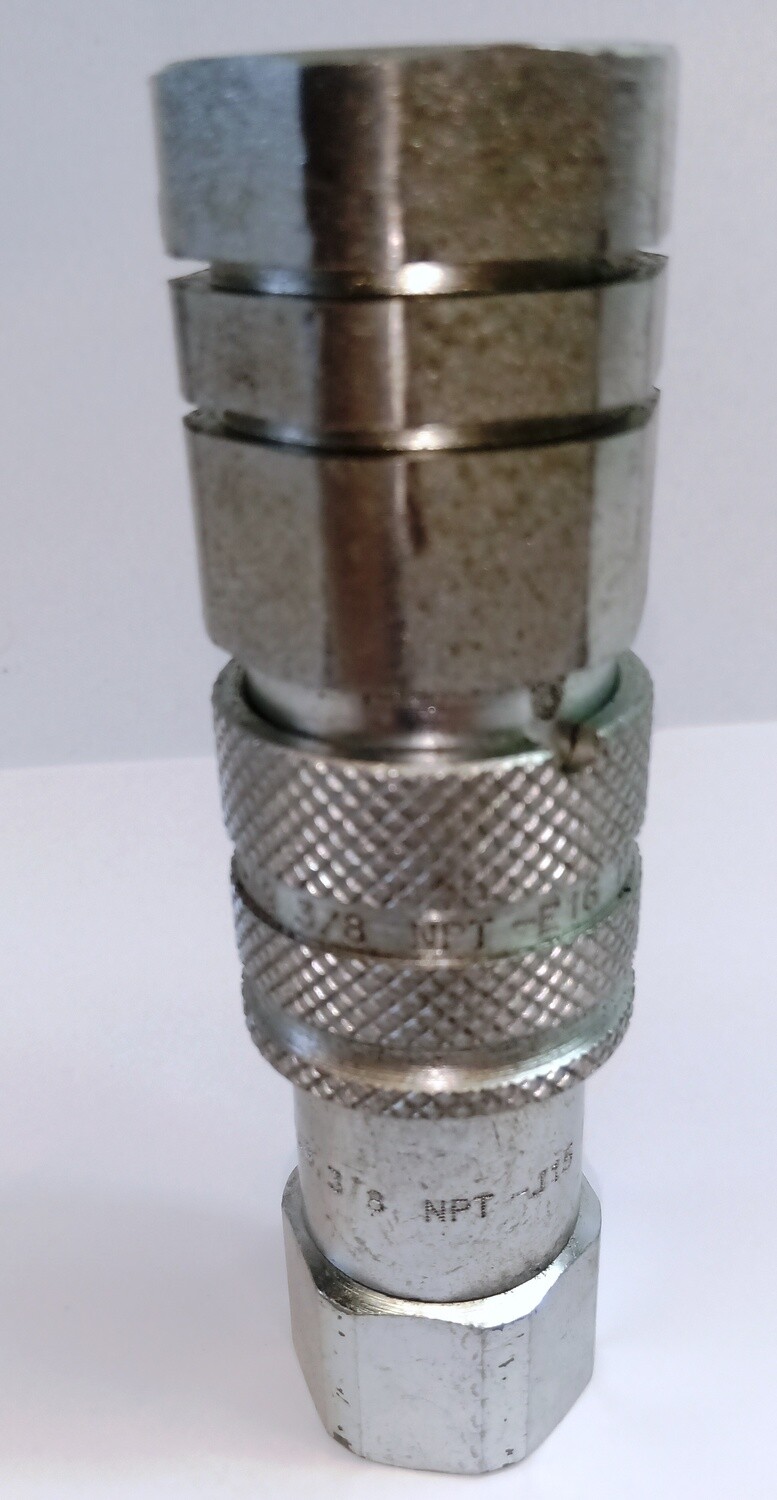 STUCCHI Flat Face Hydraulic Couplers 3/8"NPT Male/Female /Pairs BOBCAT YANMAR
SKU STUCCHI 3/8" NPT
Product Details
GENUINE STUCCHI SERIES A FLAT FACE ISO 16028 3/8" NPT THREAD
These are an Vac truck manufacturers surplus/excess stock we purchased as a bulk lot. The couplers are a widely used type in Australia, however the thread for the hose connection is a USA type. 3/8" NPT is NOT the same size & thread as tapered BSP, (BSPT) so these will require a 3/8" NPT nipple to join to your Female hose end. These are brand new couplers, some have had nipples screwed in ready for use, but we have removed these. There is some surface scuffing on some, but these are top off the line couplers at less than half price. #We have only 9 pairs, & 14 female only halves.
Used extensively on all manner of Hydraulic machines, these flat face couplers are the most common flat face size for Australian used machines . They have 3/8" NPT Threads. It is easy to check compatibility. Please refer to our size charts in photos for correct sizing. The best measurement to use is 'J' column. ** These are A 9 size
Please note , this sale is ONLY for 3/8" x 3/8" couplers , the A9 dimension coupler in the chart. If you need other sizes in the chart, please check our other listings or message us for prices.
These 1/2" flat face couplers are compatible with;
DNP PLT4, Stucchi FIRG/A Series, Faster 2FFI , Hansen QA, Ryco R110-06/08, Safeway FF49, Aeroquip FD89/FD49

3/8" / NPT
less than 0.1 Bar @ 20 Litres / Minute
Carbon steel body, treated to increase hardness and corrosion resistance, Nitrile seals. H Series couplings are Zinc plated.
Flat mating faces are easily wiped clean to prevent the ingress of contaminants.
Improved flow path minimises the pressure drop.
Non-spill design avoids fluid loss during connection and disconnection.
No air intrusion during connection.
Locking sleeve prevents accidental disconnection.
Zinc nickel surface treatment and meets 200 hour salt spray tests.
This Series conform to ISO 16028 (2006) in all respects
Connection / Disconnection Under Pressure
Connection with residual pressure in the line will be difficult or impossible. For applications where connection under pressure is required, HCP male couplings, or screw couplings from either the HSC, HS or RS ranges are recommended.
Disconnection of any quick disconnect / quick release coupling whilst under full system pressure can be very dangerous and should not be attempted.
---
Buy with Confidence from a long established Hydraulic Service Center get a 12 month warranty and an Australian Tax Invoice.
Email: hosefixersaustralia@gmail.com
Phone: 07 5563 1982
Hours: 8am to 4pm Monday - Friday, excluding public holidays
Tax invoices are supplied with every purchase
If you have any questions please don't hesitate to contact us for further assistance.
Best regards,
Hydraulic.Online
---
---
IMPROPER SELECTION, INSTALLATION, IMPLEMENTATION AND/OR OPERATION BY ANYONE OTHER THAN PERSONS WITH APPROPRIATE TECHNICAL AND MECHANICAL TRAINING CAN RESULT IN DAMAGE TO EQUIPMENT OR PROPERTY, SERIOUS PERSONAL INJURY OR DEATH. PROPER PRECAUTIONS AND SAFETY PROCEDURES SHOULD BE IMPLEMENTED PRIOR TO INSTALLATION AND OPERATION OF EQUIPMENT.

Save this product for later
All your hydraulic needs in one place! Search products or browse categories below
Products on Hydraulic.Online are described and explained in non technical terms, with photos, charts and or videos. Most of our clients also tend to upgrade to more complete systems this is because they can pick up a phone and call us for a consultation. Call us and experience it for yourself! Australia +61 (07) 5563 1982.
(Hours 8am – 4pm Monday – Friday AEST, excludes National & QLD public holidays)