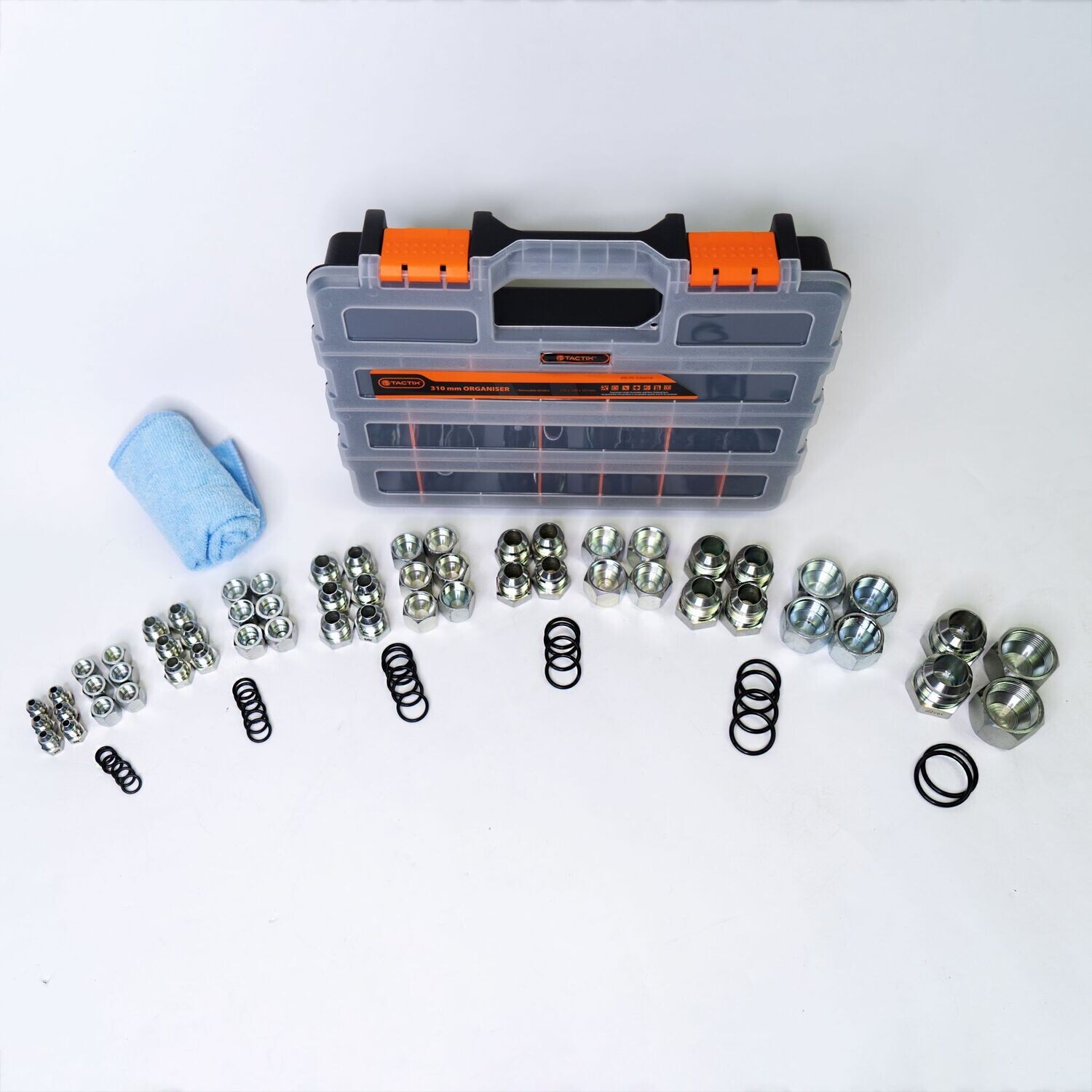 92 Piece JIC Cap and Plug Kit 7 Sizes #4 5 6 8 10 12 16, 37° Tapered Seat Packed in a Strong Plastic Case with Adjustable Partitions Bonus N9"O" Rings and Microfiber Cloth
SKU PCKJIC
Product Details
Positive feedback: BEST SELLER ..SUPER FAST SERVICE...AAA 🙂 thanks
US Customers Only, Ships Daily from our Texas Warehouse to US Mainland Only.
92 Piece Hydraulic maintenance kit of assorted JIC Plugs Caps and O Rings.
Description and Quantities:
JIC Steel Plug Cap and N9 O Ring Kit One Pair =One Male Plug & One Female Cap
* 4 Pairs 7/16 inch -07, Dash 4 + 4 O N9 O rings
* 4 Pairs 1/2 inch -08 Dash 5 + 4 N9 O rings
* 6 Pairs 9/16 inch -09, Dash 6 + 6 N9 O rings
* 6 Pairs 3/4 inch -12, Dash 8 + 6 N9 O rings
* 4 Pairs 7/8 inch -14, Dash 10 + 6 N9 O rings
* 4 Pairs 1-1/16 inch -17, Dash 12 + 4 N9 O rings
* 2 Pairs 1-5/16 inch -21, Dash 16 + 2 N9 O rings
How To USe:
Screw into or onto JIC Hose Ends to stop oil leaks during Machinery Breakdowns and Maintenance

Nitrile O Rings will Convert Male Plugs into low pressure UNO Port Plugs for Pumps Valves and Motors

Screw into Pumps Valves and Motors with UNO Ports to Keep Oil In and Dirt Sand Snow and Water Out

Larger Stronger Impact Resistant Plastic Case Removable Partitions with lots of Room for More Parts

Ideal for High pressure Fuel and Fluid Power Applications Pressures up to 10,000 PSI

Add an O ring to the neck of a male Plug to convert it into a temporary low pressure UNO Port Plug or bung, this will keep oil in and contaminants out of expensive pumps, motors, valves and cylinders during storage or transportation.

Benefits:
Use these plugs and caps when:
You want to prevent oil leaks when disconnecting and removing hydraulic hoses and pipes from a machine.
Carrying out Hydraulic Repairs to Marine Vessels, Earth movers, Tow Trucks, Tippers, Tilt Trays and Drill Rigs.
It is essential to prevent contaminants such as dirt, dust and rain water from entering your machine's sensitive hydraulic Pumps, Motors, Valves and Cylinders.
You need to keep a new hydraulic hose contaminant free as you push or pull it through a dirty machine.
We have prepared this kit based on our years of experience working on all types of hydraulic equipment and are confident it is both economical and realistic in the quantity of Plugs Caps and O rings required for most Hydraulic breakdowns and repairs.
Packed neatly in a large Plastic Parts Case with removable and adjustable partitions the parts case has lots of spare room for additional plugs caps as well as other adaptors.
* * * * * * * * * * * * * * * * * * * * * * * * * * * * * * * * * * * * * *
Buy with Confidence from a long established Hydraulic Service Center get a 12 month warranty and an Australian Tax Invoice.
Email: hosefixersaustralia@gmail.com
Phone: (+617) 5563 1982
Hours: 8am to 4pm Monday - Friday, excluding public holidays
AEST (Australian Eastern Standard Time)
Tax invoices are supplied with every purchase
Out of Stock
It is our desire to always have every listed item actively in stock. Occasionally (but very seldom) due to high demand, short supply or human error we may be momentarily out of stock on an item. If this happens you will be notified and given the option to either cancel for a full refund or wait for the part to come in (typically 3-14 days).
If you have any questions please don't hesitate to contact us for further assistance.
Best regards,
Hydraulic.Online
Save this product for later
All your hydraulic needs in one place! Search products or browse categories below
Products on Hydraulic.Online are described and explained in non technical terms, with photos, charts and or videos. Most of our clients also tend to upgrade to more complete systems this is because they can pick up a phone and call us for a consultation. Call us and experience it for yourself! Australia +61 (07) 5563 1982.
(Hours 8am – 4pm Monday – Friday AEST, excludes National & QLD public holidays)