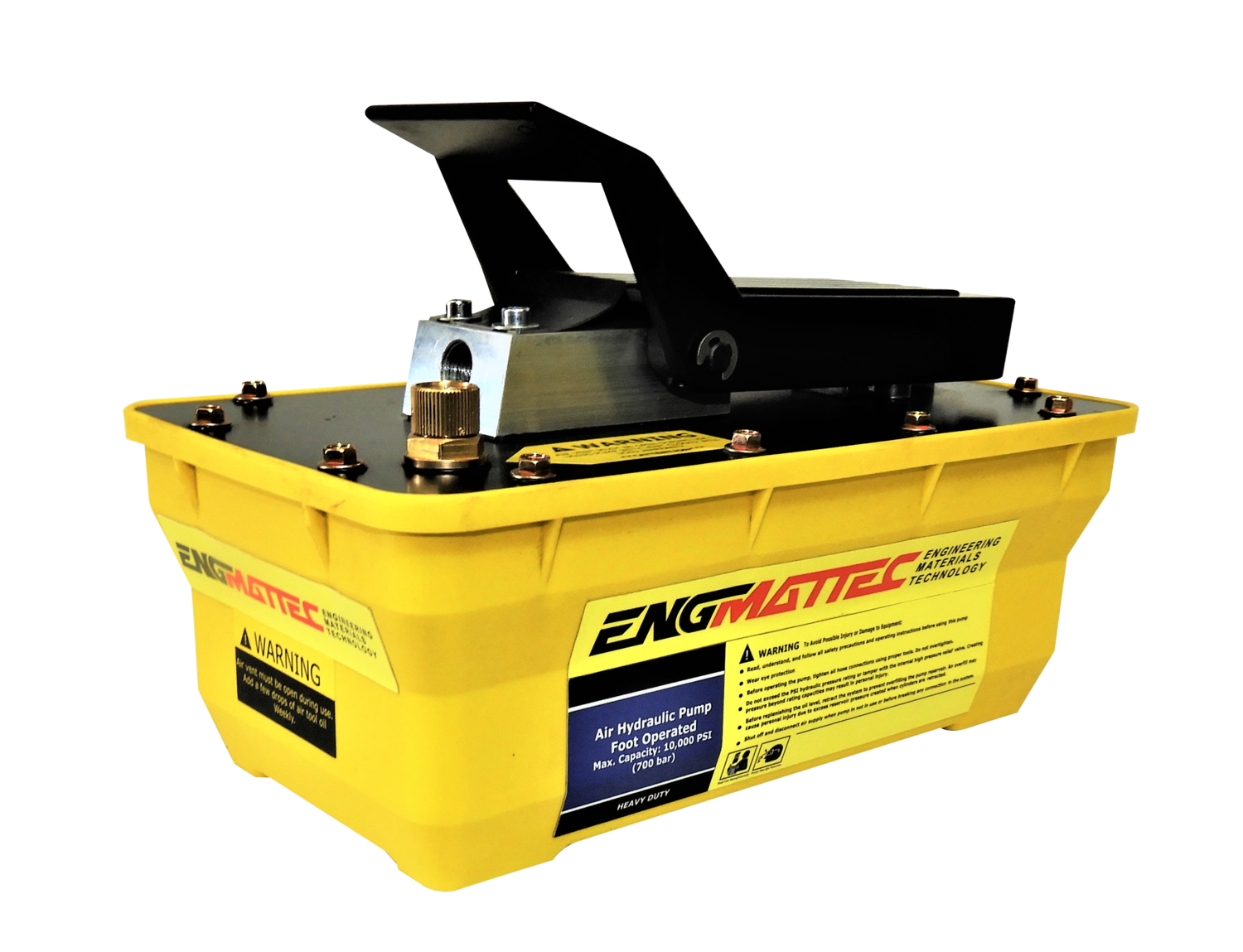 Air Operated Hydraulic High Pressure Pump 10000 PSI
SKU air/hyd pump no hose
Product Details
This is what a happy customer Mr M S Stock wrote about our ENGMATTEC ultra high pressure 10,000 psi 680 bar portable power unit, pump, hose assembly and screw together couplers after he took delivery of it in March 2020, he Wrote "Fantastic. Solid build."
This compressed air operated pump or portable power unit will generate up to 10,000 psi oil pressure when supplied with compressed air at 120 psi.

You can use this pump in a multitude of Applications including
High pressure supply for scissor lifts for lifting cars and motor cycles.
Supplying cylinders attachments in collision repair shops and Auto body frame pulling machines and racks.
Clamping cylinders in Workshops.
Pipe and tube Benders
Frame straighteners in auto collision centers.
Spreading attachments in mechanical workshops
Axle correction in trucks busses and other transport equipment
Suspension and alignment workshops.
Torque Multipliers in oil, gas and mining equipment applications.
Bolt tensioners and nut splitters
Cable crimpers and terminations for electrical, marine, fencing and safety barriers.
Bridge Jacking.
Widely used in Mechanical & Fabrication shops as well as in the field to Bend, Press, Pull, Push or Twist materials using specialist hydraulic attachments.

Safe for mining environments, and or other situations when electricity and possible sparks are prohibited.
This is a Quality unit Built with an all metal pump assembly heavy, duty seals, and large 2.3 liter oil tank made from impact resistant ABS plastic.
it is also fully rebuildable with parts kit readily available at reasonable prices.
Unique features include.
Vary the supply air pressure to vary oil pressure out (minimum 20 PSI will deliver 1800 PSI oil pressure)
Watch our video Below to see how you can do this.
Oil level sight glass
3 in one filler breather transport cap.
3 way Foot or Hand operation possible.
Larger than average oil tank capacity
Simple foot pedal operation
Push forward pump starts to generate flow and pressure
Pedal to middle position pumps stops and holds the pressure and load
Press Back and pressure is realased and load is removed.
SINGLE ACTING AIR ACTUATED HYDRAULIC PUMP 10,000 PSI (685 BAR)

This Single-speed pump, simple operation and easily portable due to its lightweight, compact design. This unit is fully serviceable / rebuildable. Pump output pressure can be easily adjusted by adjusting air input pressure, for example 125 PSI compressed air input = 10,000 PSI oil pressure output, 62 PSI compressed air input = 5,000 PSI oil pressure output. Air consumption at 100 Psi = 339 litres per minute
Watch us modify this hand actuated 50 ton press to operate using this Air over hydraulic pump.

By supplying only 100 PSI of air pressure we were able to generate up to 40 tons of force.
Go to 1:02 to see unboxing and set up.
Go to 5:32 for testing features and connecting to existing press hydraulic system.
We can also supply air filter regulators, please see our other listings.

Buy with Confidence from a long established Hydraulics Business, get a 12 month warranty and an Australian Tax Invoice.
***DISCLAIMER***
IMPROPER SELECTION, INSTALLATION, IMPLEMENTATION AND/OR OPERATION BY ANYONE OTHER THAN PERSONS WITH APPROPRIATE TECHNICAL AND MECHANICAL TRAINING CAN RESULT IN DAMAGE TO EQUIPMENT OR PROPERTY, SERIOUS PERSONAL INJURY OR DEATH. PROPER PRECAUTIONS AND SAFETY PROCEDURES SHOULD BE IMPLEMENTED PRIOR TO INSTALLATION AND OPERATION OF EQUIPMENT.
Save this product for later
All your hydraulic needs in one place! Search products or browse categories below
Products on Hydraulic.Online are described and explained in non technical terms, with photos, charts and or videos. Most of our clients also tend to upgrade to more complete systems this is because they can pick up a phone and call us for a consultation. Call us and experience it for yourself! Australia +61 (07) 5563 1982.
(Hours 8am – 4pm Monday – Friday AEST, excludes National & QLD public holidays)