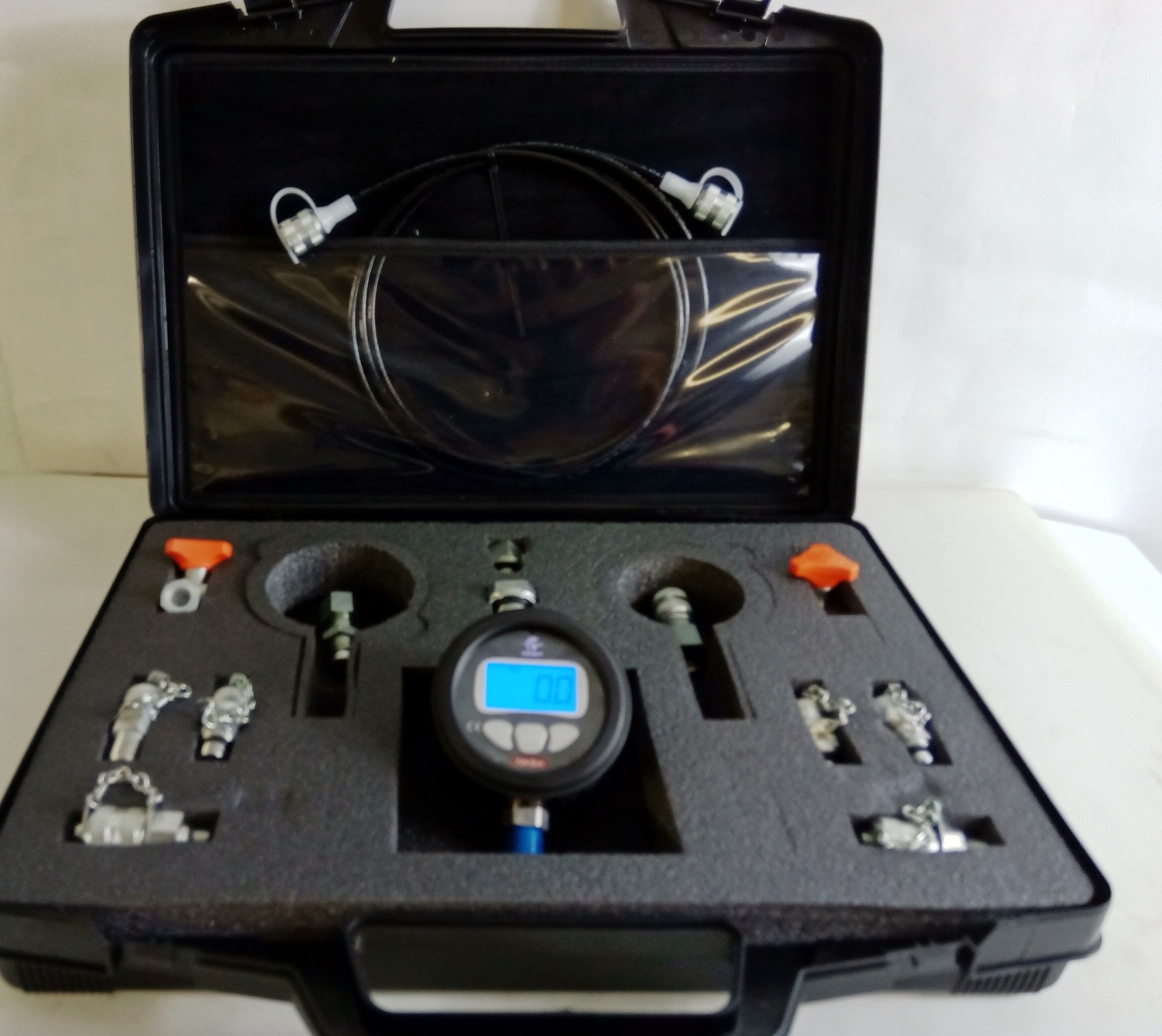 Digital Pressure Gauge Test Kit 0 -700Bar / 10,000Psi Includes Adapters
SKU Skon Digi Kit
Product Details
SKON Digital 0 - 700 bar bottom entry Pressure Gauge Test Kit
0 - 100bar & 0 - 400 bar digital gauges are also available at no extra cost on request
PSI, BAR, KG/Cm2, MPA readings
This gauge fulfill the safety requirements of German Standards EN 837-1/S2.
This Taiwanese made 0 - 700 BAR (1/4" BSP Stem) gauge comes with a certificate of calibration and accuracy to ensure out of the box functionality. Using the adapters allows instant accurate pressure reading simply by attaching to standard test ports found on most hydraulic machinery, tractors etc. It is an essential tool for any heavy equipment owner or mechanic.
Kit includes:
• 700 Bar Digital gauge
• Test Hose: Test 20 x 2m
• Direct Gauge Connector: 1/4" Male Test 20
• Direct Gauge Connector: 1/4" Female Test 20
• Test Point: 1/4" BSPP
• Test Point: 1/4" 18 NPTF
• Test Point: M8x1
• Test Point: M14x1.5
• Test Point: 7/16" 20 UNF
• Reducing Adaptor: M10x1F - M ISO228 G3/8"
• Reducing Adaptor: M10x1F - M ISO228 G1/2"
• Anti-shock Valve: 90 Deg Entry
• Anti-shock Valve: Swivel Direct Entry
# Optional Cat flat face female test point
This is a high quality hydraulic pressure test kit and is ideal for measuring all non flammable and non corrosive liquids or gasses. Oil, Water and Non flammable Gasses. Comes with an accuracy & calibration certificate. Kit comes with adapters allowing the easy installation to any hydraulic line. To use these, simply 'plumb' in a Tee fitting somewhere in the line you are testing. Will fit easily to standard 'test' ports on hydraulic valves, p.umps or can be used anywhere in the hydraulic system to give you a clear diagnosis of actual pressures and or potential problem areas.If your machine does not have test ports, or has unusual ones, we supply two adapters, 1/4"& 1/8" BSPP adapters.
Additional Information
High precision at ±0.5%
Backlight display; Zero reset; Switching between 4 types of PSI, Bar, kg/cm2, Mpa.
AISI Stainless Steel 17-4PH one-piece-formed sensor, 100% without welds, O-ring or silicone oil; 100% leakage-proof.
PP casing, can be used in weak acid or alkaline environment.
Capable of -10~60°C temperature compensation.
Capable of Peak-Hold.
Burst pressure : 5X
Pressure overload : 2X
Service life: 10 million
1/4" Bspp
Many other adapter thread types and sizes available on request
---
Buy with Confidence from a long established Hydraulic Service Center get a 12 month warranty and an Australian Tax Invoice.
Email: hosefixersaustralia@gmail.com
Phone: 07 5563 1982
Hours: 8am to 4pm Monday - Friday, excluding public holidays
Tax invoices are supplied with every purchase
Out of Stock
It is our desire to always have every listed item actively in stock. Occasionally (but very seldom) due to high demand, short supply or human error we may be momentarily out of stock on an item. If this happens you will be notified and given the option to either cancel for a full refund or wait for the part to come in (typically 3-14 days).
If you have any questions please don't hesitate to contact us for further assistance,
Best regards,
Hydraulic.Online
Below is a video demonstration of the equivalent product (Stauff 600 BAR Digital Gauge Kit)
---
---
IMPROPER SELECTION, INSTALLATION, IMPLEMENTATION AND/OR OPERATION BY ANYONE OTHER THAN PERSONS WITH APPROPRIATE TECHNICAL AND MECHANICAL TRAINING CAN RESULT IN DAMAGE TO EQUIPMENT OR PROPERTY, SERIOUS PERSONAL INJURY OR DEATH. PROPER PRECAUTIONS AND SAFETY PROCEDURES SHOULD BE IMPLEMENTED PRIOR TO INSTALLATION AND OPERATION OF EQUIPMENT.
21/10/2019 RR $
Save this product for later
All your hydraulic needs in one place! Search products or browse categories below
Products on Hydraulic.Online are described and explained in non technical terms, with photos, charts and or videos. Most of our clients also tend to upgrade to more complete systems this is because they can pick up a phone and call us for a consultation. Call us and experience it for yourself! Australia +61 (07) 5563 1982.
(Hours 8am – 4pm Monday – Friday AEST, excludes National & QLD public holidays)