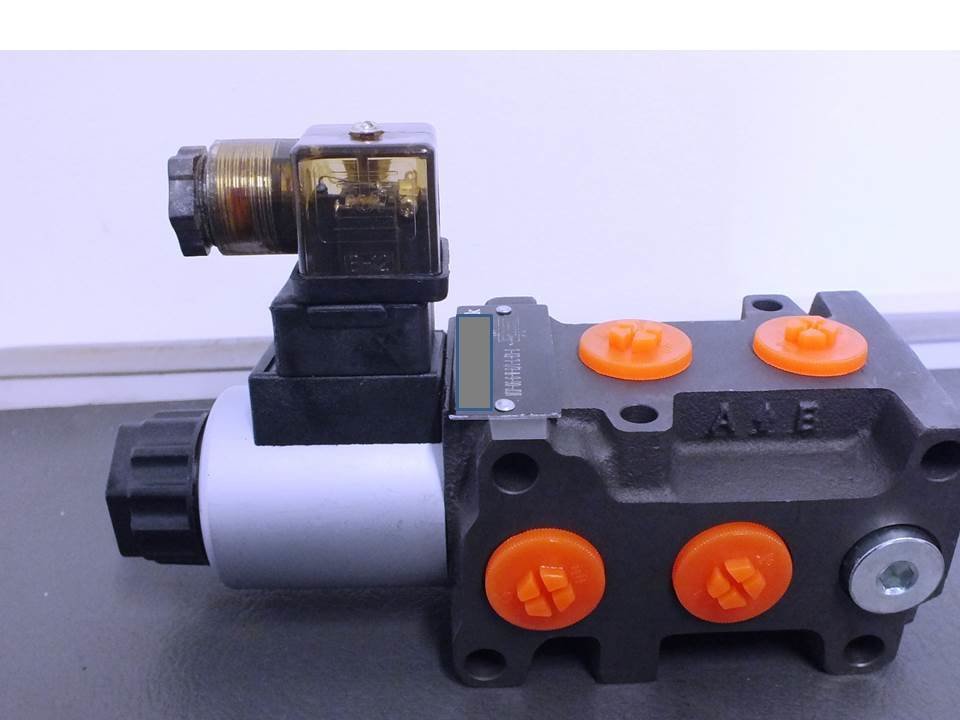 HYDRAULIC 6 PORT DIVERTER VALVE 50 - 80 Lt/Min 3000 PSI 3/8" or 1/2" in 12-24V DC
SKU 6 port Diverter Electric
Product Details
6 Port Hydraulic Diverter valve is a simple cost effective way to add an additional alternative Hydraulic Function to a machine e.g. a double acting cylinder, Reversible drive motor or another valve.
Please note only one function will work at a time.

Six port solenoid diverters allow two separate double acting circuits to be controlled from one one flow. Valves can also be installed closer to where the new function is required thus saving in time and additional hose fittings and materials.
Comes with 3/8" or 1/2" BSPP ports flow 50 - 80 Lt/Min, at to 3000 PSI, 12 or 24 V DC solenoid coil with manual override, Square plug with indicator light,
P1 & P2 are pressure in, C,D are normally open functions, & A,B are the alternative function when solenoid coil is energised.

The 3/8" ported unit is available with closed or open centers,
The 1/2" ported model is available with closed centers only .
Directions for use.
The 3/8" BSPP port model is capable of flowing 50 Lt/Min.
If used with oil at less than 150 bar (2250 PSI) pressure then no case drain is required.
It is capable of pressures up to 250 bar 3600 PSI.
The 1/2" BSPP ported unit will flow up to 80 Lt/Min at a max of 315 bar / 4725 PSI pressure.
Please note, over 2250 PSI (150 bar) oil pressure the 1/2" ported unit requires a low pressure case drain. There is a 1/2" BSPP port on the end or the side for this purpose.
Case drain is for draining away any internal leakage, rather than pressurise the valve.
Case drains must return directly to tank.
For wiring, just use the two terminals opposite each other, ignore end terminal
These divertors are also 'stackable' (see photos) . These means you could stack eg. 3 x 6 port diverters to achieve four different functions.
Buy with Confidence from a long established Hydraulic Service Center get a
12 month warranty and an ' Australian Tax Invoice.
The 1/2" comes with closed centres only. The 'centre' refers to what happens when you flick the switch and energise the solenoid coil. Closed center is best for cylinders, as if you have a load in the air, having a closed centre means it will not drop on the crossover.
Open is best if you have a spinning hydraulic motor, so it does not stop dead. T
We also offer a 50lpm, 3/8" ported model and a 3/4" BSPP Model please message us)
This will save on additional costs for extra valves,hoses and fittings.

3/8" ,No drainline up to 160 bar (2400 psi)(, above this up to a maximum of 250 bar / 3750psi the drainline must be connected.
1/2" , Drainline required at all times. All come with manual overide should power fail. Designed to be used in applications where the flow and return from a control valve is used to operate two separate circuits.
We carry a full range of hydraulic fittings, adaptors & hosing. Please call us on 07 55716155 or email us at hosefixersaustralia@gmail.com with any questions
Post is $13.40 Australia wide
Postage Australia Wide $13.40
Call us on 0755 631982 with any questions you may have or for a different filter port size or micron .
---
IMPROPER SELECTION, INSTALLATION, IMPLEMENTATION AND/OR OPERATION BY ANYONE OTHER THAN PERSONS WITH APPROPRIATE TECHNICAL AND MECHANICAL TRAINING CAN RESULT IN DAMAGE TO EQUIPMENT OR PROPERTY, SERIOUS PERSONAL INJURY OR DEATH. PROPER PRECAUTIONS AND SAFETY PROCEDURES SHOULD BE IMPLEMENTED PRIOR TO INSTALLATION AND OPERATION OF EQUIPMENT.

Save this product for later
All your hydraulic needs in one place! Search products or browse categories below
Products on Hydraulic.Online are described and explained in non technical terms, with photos, charts and or videos. Most of our clients also tend to upgrade to more complete systems this is because they can pick up a phone and call us for a consultation. Call us and experience it for yourself! Australia +61 (07) 5563 1982.
(Hours 8am – 4pm Monday – Friday AEST, excludes National & QLD public holidays)