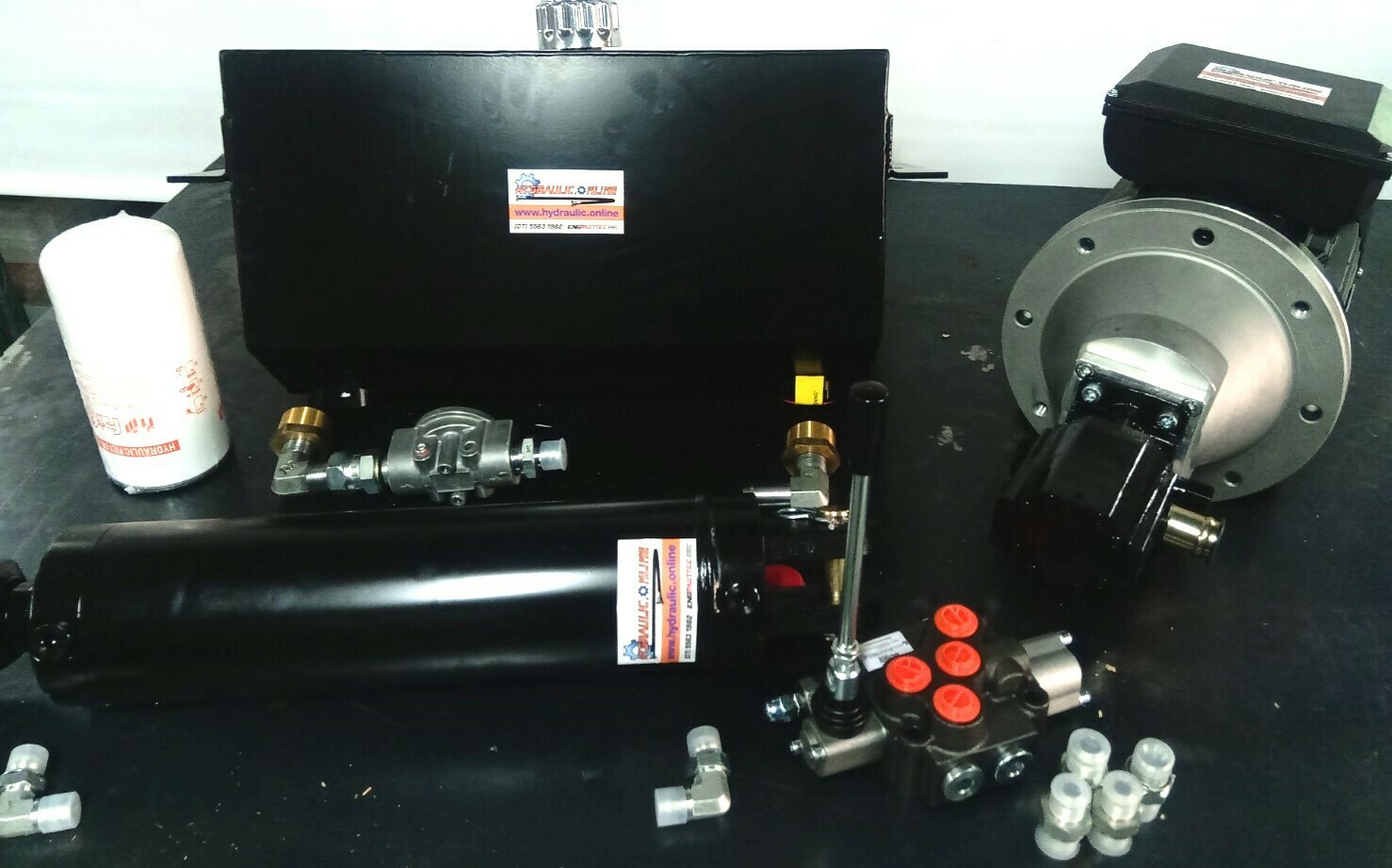 HYDRAULIC METAL FORGE PRESS ELECTRIC HI/LO PUMP 25 TONS
SKU 3.7KW
Product Details
Metal Forge Hydraulic Press Hammer Electric Motor + Hi Lo Splitter Pump 240V Package

This is a 240 volt, 3.7Kw metal forge hardware package. The 3.7 kw motor & hi lo pump are the maximum power you can run on 240 volt. This set up gives you maximum speed & tonnage we can provide for 240 volt.

This is most of the hydraulic hardware required to build your own metal forge.
It can produce 26 tonnes of force, with a good speed (see video of actual unit).
You will need to assemble the parts, to suit your own frame.
The motor needs to be wired up. You must have a 20 amp fuse / circuit to run this unit.
What's included;
3.7Kw electric motor,
Bell housing, shaft couplers & a cast iron hydraulic Hi Lo pump
Lever control valve
5" bore, 12" stroke ram, 26 tonne @ 3000psi
45 Liter oil tank
Return filter
Hydraulic adapters to fit tank, valve, ram etc.
Pressure gauge on 2 metre hose is now included (not in photo)
# Please note; electric plug cables are not supplied with these units as per Australian law. There is a wiring diagram under the power terminal lid. An Electrician is required by law to connect up.
# ROTATION; Clockwise rotation when looking at motor rear fanblade
What you require;
Electrical connection of motor, and an on/off switch
Nuts & bolts.
Frame etc.
Hydraulic Hoses. Once you have your forge set up, use a piece of old garden hose to measure the required hose lengths.
Email /or phone us Australia (07) 5563 1982 & we will quote your swaged hose assemblies because getting a hydraulic hose van out to do this might be very costly.
We can supply for a fraction of what they'll charge.
Using a hydraulic cylinder with a 5" bore high flow will produce a down speed of 25 mm per second and an up speed of 30 mm per second.

in Low flow it will produce a down speed of 4 mm per second with 25 tons of force and an up speed of 5 mm per second.
Video below is of the actual hardware package in Action (Video with courtesy and thanks to our customer Grant!)
The cycle time as well as the forces generated will vary depending on the bore & stroke of the hydraulic ram you are using. Please contact us with your requirements.

Joe the Builder Built this Beauty. (not our parts)
Check out Paul Pinto's Video on how he built his awesome Hydraulic Press For Blacksmithing
A few examples using 5" bore rams with a 12" stroke = 19 sec cycle (full down and up),
With an 18" stroke = 18 seconds down and 15 seconds up.
A 4" bore ram will be faster. The pump comes with a 1" suction tail & has a 1/2" bspt pressure port.
The pump is the highest possible LPM (flow) available for a 10 Hp motor.
It is a hi lo pump, which means it pumps High Flow at low Pressures, this is used when the cylinder is extending or retracting, but once your forge hits the job to start the deformation process, it automatically drops to Low Flow High Pressure cycle to enable very high pressing forces with good control.
Again tonnage is dictated by the bore of your chosen ram.
As an indication, you will produce the following tonnages;
4" bore ram = 16 tonnes,
5" bore ram = 25 tonnes.
The larger the bore, the higher the tonnage.
However the larger bore needs more oil volume, resulting in slower up down speeds.
This is a professional quality unit, made to perform & last.
We also stock Australian made hydraulic rams,
1 spool mono block valves to operate the up down function for your press.
Also available Oil tanks as well as fittings & either swaged to length hydraulic hoses, or hose with re usable fittings to allow all hoses to be made by yourself on site with minimal tools.
Please call us for additional parts or larger / smaller units. We can supply 5Hp up to 20hp set ups. (07) 5563 1982
Pic $ RL 10.2020 re inv 47642
Save this product for later
All your hydraulic needs in one place! Search products or browse categories below
Products on Hydraulic.Online are described and explained in non technical terms, with photos, charts and or videos. Most of our clients also tend to upgrade to more complete systems this is because they can pick up a phone and call us for a consultation. Call us and experience it for yourself! Australia +61 (07) 5563 1982.
(Hours 8am – 4pm Monday – Friday AEST, excludes National & QLD public holidays)