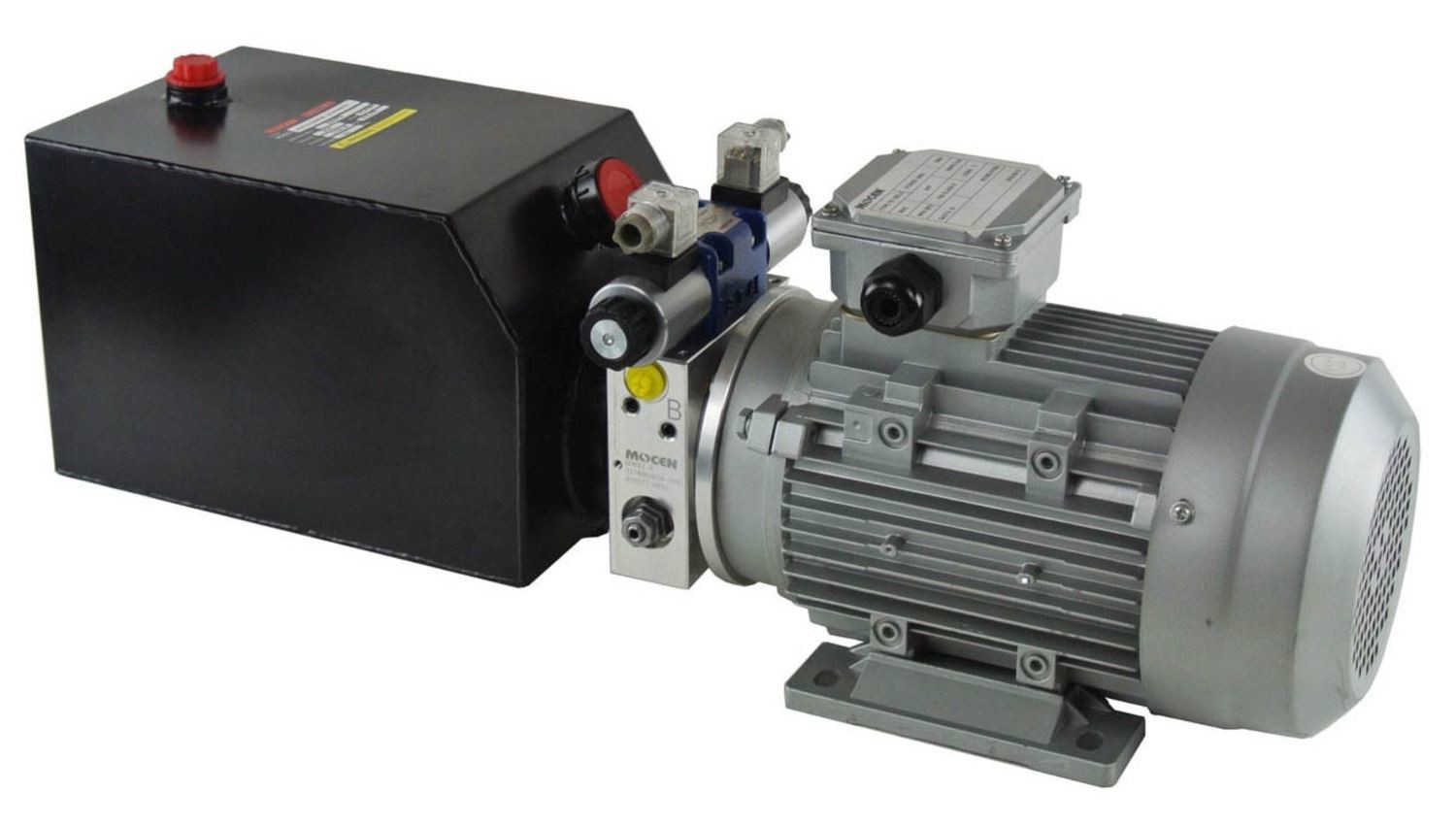 HYDRAULIC POWER PACK 1.1 Kw 415 V 3 LPM 2800 PSI
SKU 1.1 Kw 3415v
Product Details
1.1 Kw 3 Phase 415 V Hydraulic Power Pack 185 Bar (2700 PSI) Pressure at a flow of 3 Lt/Min. Designed for industrial machinery, conveyors, presses, punches, benders, tippers & folders small motors, P & T, Double or Single acting cylinders intermittent light duty. Larger Flow Sizes at lower pressures are also available at NO EXTRA COST.

Heat is the by product of hydraulic equipment & is one of the major causes of early failure. For a little extra cost Oil tanks can be up sized to create a larger oil capacity in order to increase heat soak time and also heat dissipation from a larger surface area.

This comes standard with a 1.1 CC pump please call or email us for other options listed below.
email = sales@mhfgc.com.au
Phone Australia +61 07 5563 1982

Different tank sizes are also available for not that much more cost

##Please note if you want more Pressure you will be sacrificing LPM & conversely,
if you install a larger pump, your max Pressure will reduce.
P/T= Pressure/Tank (requires the use of a lever control valve)
D/A= Double Acting (requires pendant/electrical controller), not included see other listings for pendants
S/A=Single Acting (requires pendant/electrical controller) not included see other listings for pendants
This is a quality motor and pump Manufactured in Shanghai to very high standards.
# Please note; electric plug cables are not supplied with these units as per Australian law. There is a wiring diagram under the power terminal lid. An Electrician is required by law to hook up.
# ROTATION;
### Mocen AC power units are CCW looking at the motor fan. ###
Specifications for 2.7cc
Motor has an Aluminium Frame and Cooling fins and is fan cooled, Frame size = 90
Flow 3 liters per Minute @ 2800 PSI (193 BAR)
Max Pressure up to 193 BAR (2800 PSI)
Pressure relief valve Factory set at 195 BAR (2825 PSI)
Ports 9/16 UNO
7.5 Liter capacity Oil tank with combination breather/level plug and separate fill plug. larger tanks available up to 38 liters please call for pricing.
Manual Actuation or Overide available on Solenoid Spindles contact us for this option
Flexible Mounting Positions can be mounted Horizontally or Vertically (With Motor Up)
Duty Cycle = Intermittent
Dimensions Length = 69 cm Width = 20 cm Height = 24 cm
Weight 22 KG
Use ISO 48 Hydraulic Oil or ATF Fluid for this unit

· Intermittent Use · As a guide … 8% - 10 % per hour at full flow and pressure , this time needs to be intermittent over the hour , with max time on 2 - 3 min duty cycle .( depending on Flows and Pressures ) So if you are using the Power Unit you could only activate every 12 -14 min for 2 - 3 min Hence recommendation of 3-5 times per hour max .. And in some application you should increase the Tank size as a precaution against heat. These can be up sized for little extra cost.
We can also Provide quality flow control valves, hydraulic hose, adaptors, and field fit hose fittings at very competitive rates please see our other listings or contact us on 0755 631 982, or contact us at; hosefixersaustralia@gmail.com
Postage
$45 postage Some remote areas may incur an extra Freight fee we will contact you if this applies
Emails will be answered within normal business hours (ie: 8.30am - 5.00pm M-F)
---
Use ISO 48 Hydraulic Oil or ATF Fluid for this unit

Save this product for later
All your hydraulic needs in one place! Search products or browse categories below
Products on Hydraulic.Online are described and explained in non technical terms, with photos, charts and or videos. Most of our clients also tend to upgrade to more complete systems this is because they can pick up a phone and call us for a consultation. Call us and experience it for yourself! Australia +61 (07) 5563 1982.
(Hours 8am – 4pm Monday – Friday AEST, excludes National & QLD public holidays)