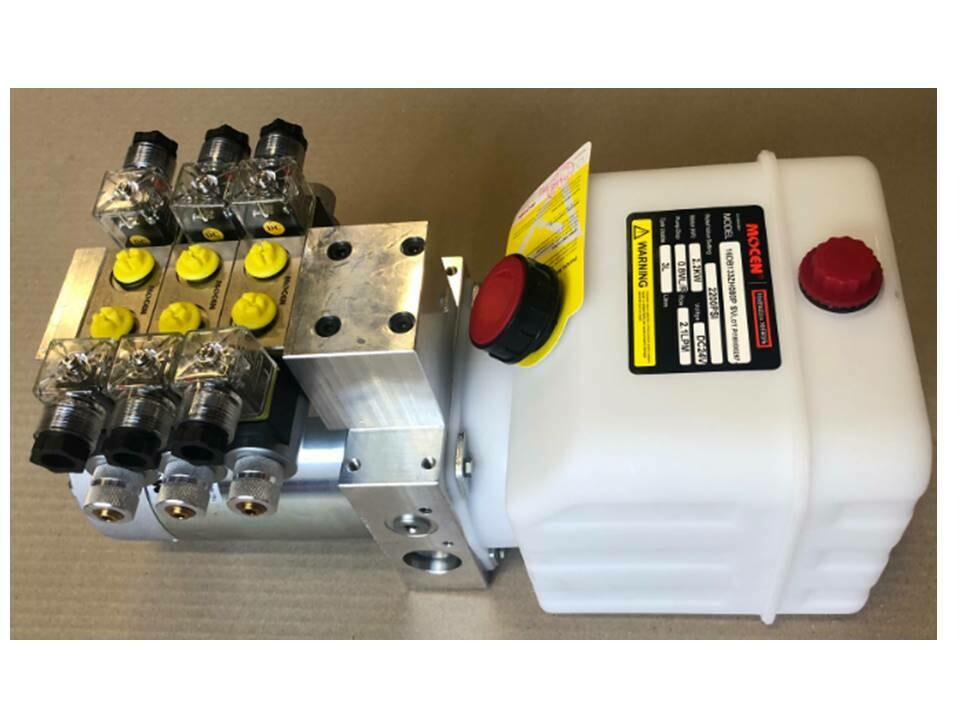 Hydraulic Power Pack Crane Truck 12 - 24V DC 3 x Dbl Acting 5.0 Lt/Min 3000 PSI
SKU sandwich valve
Product Details
CRANE TRUCK HYDRAULIC POWER UNIT , HIAB , UNICH etc
Powered by 12 or 24 Volt DC this compact Hydraulic Power Pack or HPU comprises of a Motor, Pump, Tank & three Double Acting Solenoid valves. It is designed to supply an oil flow of 5 Lt/Min at a Pressure of 3000 PSI to three separate Hydraulic functions. This is an ideal pump replacement to operate small truck mounted Hiab type cranes. This will lift full tonnage, & the 5 Lpm is an ideal speed for small cranes. We also have a more powerful unit, which will lift the same tonnage, but will move your crane faster. This is a better choice for bigger cranes.
Also available in up to Six sandwich valves (12 solenoids) Please contact us for pricing.
# Photo is of actual unit, however STEEL tanks will now be supplied
This unit is ready to be hooked up to your power cables, & can then be operated from existing electric or remote control, or we can supply a 6 button pendant control or even a remote control unit. (See remote control listings in our store) , LINK AT BOTTOM)
Will suit any other 2 circuit double acting hydraulic circuit requiring intermittent use, low flow and high pressure hydraulic oil.
This Unit is capable of generating up to 200 Bar (3000 PSI) Pressure at a reduced flow rate.
This is a quality motor and pump Manufactured in Shanghai to very high standards.
Power Rating 12 (1.6 KW) or 24 DC, 2.2 KW
Flow 5.0 liters Minute at 170 Bar (2500 PSI)
Max Pressure up to 200 BAR (3000 PSI)
Pressure relief valve Factory set at 140 BAR (2000 PSI)
Ports 9/16 UNO
Steel Liter capacity Oil tank with combination breather/level plug and separate fill plug.
Three Solenoids are mounted to a Steel Valve Block that has spring to centre position with all Ports Closed in center position.
Six Heavy Duty Solenoid Coils
Manual Actuation or Overide on Solenoid Spindles.
LED Indicator Lights on Hirschmann Type cable connectors to coils
Flexible Mounting Positions can be mounted Horizontally or Vertically (Motor Up)
Safety thermistors installed in motor windings to prevent overheating.
Duty Cycle = 25% at Low Duty, low load and pressure (600 PSI) = 100Amps Draw,
Allowable run time 12.5 minutes and then allowed to totally cool down.
or 150 seconds ON - 400 seconds OFF.
Duty Cycle = 19% at Medium duty medium load and pressure (1600 PSI) = 160 Amps Draw
Allowable run time 7.5 minutes and then allowed to totally cool down.
or 150 seconds ON - 640 seconds OFF.
Duty Cycle = 7% 300 Amps High Duty High Load and pressure (3000 PSI) = 300 Amps Draw
Allowable run time 1.7 Minutes and then allowed to totally cool down
or 150 seconds ON and 2000 seconds OFF.
Dimensions Length = 49 cm Width = 20 cm Height = 22 cm
Weight 19 KG
We can also Provide quality hydraulic hose, adaptors, and field fit hose fittings at very competitive rates please see our other Ebay listings or send us a message with any questions you may have.
For any questions you may have or for more information regarding this listing please call us on (07) 5563 1982 or email us at hosefixersaustralia@gmail.com

---
Use ISO 48 Hydraulic Oil or ATF Fluid for this unit

---
$Pic RL 2.4.2020
Save this product for later
All your hydraulic needs in one place! Search products or browse categories below
Products on Hydraulic.Online are described and explained in non technical terms, with photos, charts and or videos. Most of our clients also tend to upgrade to more complete systems this is because they can pick up a phone and call us for a consultation. Call us and experience it for yourself! Australia +61 (07) 5563 1982.
(Hours 8am – 4pm Monday – Friday AEST, excludes National & QLD public holidays)