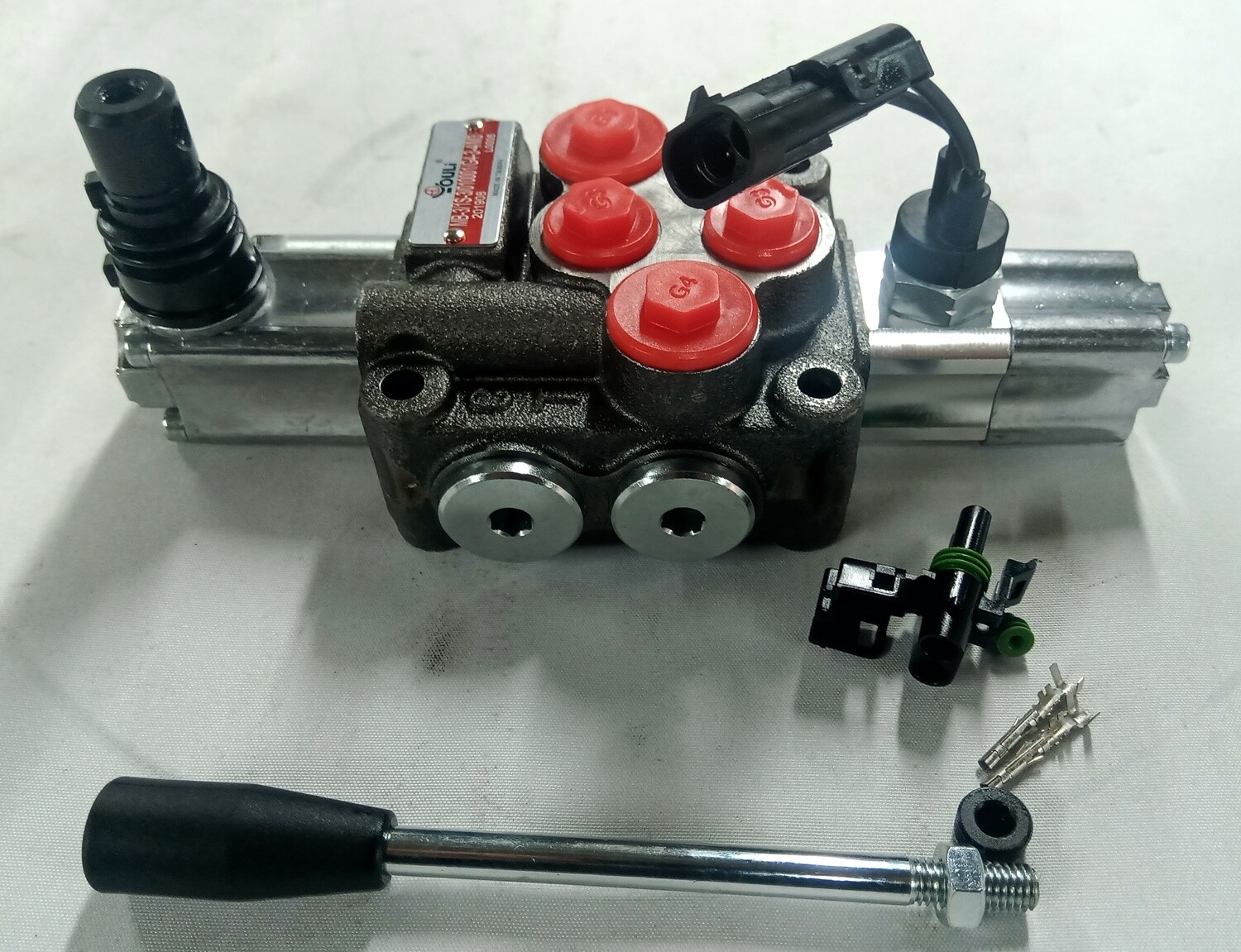 MICRO SWITCH Fitted Flow Control 1Spool Valve 45 Lt/Min RAMP LOADER
SKU micro
Product Details
Tail loader control valve with micro switch
This micro switch fitted control valve is used mostly with DC powerpacks, ie. Tail ramp loader trailers. If you wish to use a lever control instead of a pedant controller, you need a signal to turn your powerpack on & off. Using a basic on / off switch is one way, however DC powerpacks use a lot of amperage when running, as well as causeing a lot of heat, so operator failure to turn off the powerpack isolator can cause battery & powerpack failures. This control valve is the correct item to use. When you pull/push the lever, it closes a circuit causing the power pack to start stop automatically. It comes with the Male plug side ready to be wired up as per photo below. Basically, the two micro switch wires complete the starter solenoid circuit when the lever is engaged.

Available as;
Double acting, ie will power your rams both up & down
Single acting; Will only power rams in up direction (only one hose to rams)
These valves are regularly used in hydraulic circuits to divert the flow of high pressure oil and are typically used to control the speed and movement of hydraulic cylinders or motors.
Specifications
Construction = Monoblock
Material of Construction = Steel
No of Spools = 1
Material of Construction = Case Hardened Steel
O-rings made of NBR (Buna-N®)
Max Flow Rate = 45 liters/min (12 Gallons per Minute)
Relief valve = 120 Bar (1800 PSI) - simple to adjust, just a allan key
Spool Type = Cylinder.
Spool Movement = Lever action, Spring Return to Center
Built in Relief Valve = Adjustable (factory set at 1800 PSI)
Ports Sizes
Pressure and Tank Port 1/2" BSPP
A & B Ports 3/8" BSPP
Operating temperature range: -20 °C to + 80°C

Dimentions = L x W x H = 200 x 120 x 55 mm

Weight 3 KG
Please call 0755631982 or send us a question for different spool configurations, spool numbers and costings.
Many types of adaptors threads, hydraulic hose and field fit hose fittings available please see our other listings.
This a High Quality Valve and has many outstanding features, including.
built in adjustable relief valve
high performance,
high efficiency,
small volume,
mass flow,
leak resistance.
In additional to compact size, these control valves have fixed and large pull rods to control direction,
Various control options, manual, automatic and or remote control methods are also available including.
Motor Spool
Detent kit no spring return
Detent kit with spring return
Pneumatic spool control,
Hydraulic Control
Electric-solenoid control
Joystick cable control.
Features
Compact construction.
Low pressure drop.
Long service life.
High efficiency.
Choice of various ports and circuit valves.
Spring return.
High accuracy spool is hardened for long term accuracy.
Sub-plate mounting.
Handle shift operation.
Postage
Australia Wide $20
---
IMPROPER SELECTION, INSTALLATION, IMPLEMENTATION AND/OR OPERATION BY ANYONE OTHER THAN PERSONS WITH APPROPRIATE TECHNICAL AND MECHANICAL TRAINING CAN RESULT IN DAMAGE TO EQUIPMENT OR PROPERTY, SERIOUS PERSONAL INJURY OR DEATH. PROPER PRECAUTIONS AND SAFETY PROCEDURES SHOULD BE IMPLEMENTED PRIOR TO INSTALLATION AND OPERATION OF EQUIPMENT.

27.5.20 RR $
RR# 29-01-2021
Save this product for later
All your hydraulic needs in one place! Search products or browse categories below
Products on Hydraulic.Online are described and explained in non technical terms, with photos, charts and or videos. Most of our clients also tend to upgrade to more complete systems this is because they can pick up a phone and call us for a consultation. Call us and experience it for yourself! Australia +61 (07) 5563 1982.
(Hours 8am – 4pm Monday – Friday AEST, excludes National & QLD public holidays)