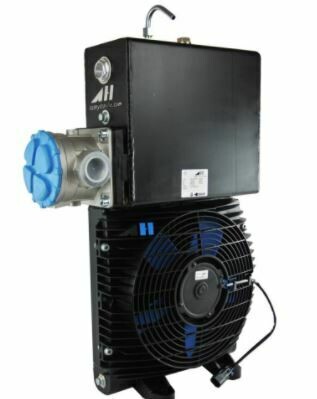 OIL COOLER SMALLER CONCRETE TRUCKS etc
SKU ILLCO
Product Details
AUSTRIAN MADE OIL COOLER DC 12V / 24V
This high quality Austrian made oil cooler is an all in one oil reservoir/cooler with inbuilt filtration. Ideal for some concrete trucks. It has 1.1/4" Bspp ports allowing good flow, & minimal backpressure, important to avoid damaging the cooler from over pressurisation. This unit comes with a temperature switch so that the cooler doesn't run in cold weather.
Please ensure you send us your pump details, ie LPM & pressure to ensure this will be suitable.
It has a 12 litre oil tank. Replacement oil filters are always in stock.
Size. 690mm High, 507mm Wide, 220mm Deep
Max Pressure (back pressure) 1.2bar / 18 Psi
For Design assistance and sizing
Please contact us by email at sales@mhfgc.com.au
or phone us on +61 (07) 5563 1982
What happens when oil is too hot

1. Shorter Oil Life

Hydraulic Oils or Transmission Oils operating at temperatures above 65°C (150°F) will start to deteriorate at an accelerated rate, this will result in shorter oil change periods. For Example having to change your Hydraulic System's oil every 1000 hours instead of 1500 hours or your transmission oil every 15,000 KM instead of 30,000 KM. Result more money spent on Oil and filters.

2 Gasket and Seal Damage
Hot Oil damages Gaskets and Seals and this may result in Internal as well as External Leaks.
3. Internal Leaks

Internal leaks reduce efficiencies, power and or torque of hydraulic cylinders, pumps and motors and in the case of a transmissions may cause erratic performance, slow acceleration and or gear shifting.
4. External leaks

External Leaks can make a mess of your mobile equipment as leaks are blown all over the underside of your vehicle, dust and grime will then stick to the oily components creating an ugly sticky mess requiring cleaning.
5. Dangerous Slip Hazards

Oil leaking or dripping onto a non absorbent floor or road not only makes a mess but also creates a potentially dangerous slip hazard that may result in an automotive accident with personal and property damage and possible prosecution.

6. Fines for Environment damage and Pollution

Oil Leaks onto the ground could be interpreted as contamination and pollution and you risk being fined. The actual or perceived risk of environmental impact from an oil leak is real, so stop that leak or at the least clean it up and save yourself the potential of legal action and a fine or imprisonment!
A recent Client of ours was sent a clean up bill for AU$3,500 when their excavator was left unattended and unchecked over the weekend leaking hydraulic oil into the ground on a particularly sensitive government construction site.

7. Mechanical Damage
Large external leaks if left unchecked will reduce or deplete the oil level of the hydraulic oil circuit causing excess friction and even more heat generation, poor performance, and eventually catastrophic mechanical damage.
8. Poor Efficiency

Lastly the Hydraulic system's efficiency is reduced because the oil viscosity changes (usually gets thinner) and more power losses are experienced resulting with even more heat being generated with reduced machine performance and or productivity.

If on the hand you operate a piece of equipment at UNDER the oil's designed temperature range you risk the following problems.

9. Poor Oil Flow when oil is too cold.

An oil that is designed to operate 10°C to 40°C ambient temperatures will be too thick to flow properly a -5°C, This can cause the machine's oil pump to cavitate which causes accelerated mechanical wear and contamination in the oil.
10. Insufficient Lubrication

When a pump cavitates it is not actually pumping as much oil volume as it was designed to do and therefore not enough oil will reach critical mechanical components to produce drive, support loads, reduce friction and or carry heat away. The result is accelerated mechanical wear and or damage.
11. Temperature Control and Design.

As with internal combustion engines that have water cooling and thermostats that control temperature to a relatively narrow range, thermostat control is also available for oil cooler systems to provide quick warm up and or cooling down but are also designed to prevent over cooling.
IMPROPER SELECTION, INSTALLATION, IMPLEMENTATION AND/OR OPERATION BY ANYONE OTHER THAN PERSONS WITH APPROPRIATE TECHNICAL AND MECHANICAL TRAINING CAN RESULT IN DAMAGE TO EQUIPMENT OR PROPERTY, SERIOUS PERSONAL INJURY OR DEATH. PROPER PRECAUTIONS AND SAFETY PROCEDURES SHOULD BE IMPLEMENTED PRIOR TO INSTALLATION AND OPERATION OF EQUIPMENT.

Save this product for later
All your hydraulic needs in one place! Search products or browse categories below
Products on Hydraulic.Online are described and explained in non technical terms, with photos, charts and or videos. Most of our clients also tend to upgrade to more complete systems this is because they can pick up a phone and call us for a consultation. Call us and experience it for yourself! Australia +61 (07) 5563 1982.
(Hours 8am – 4pm Monday – Friday AEST, excludes National & QLD public holidays)