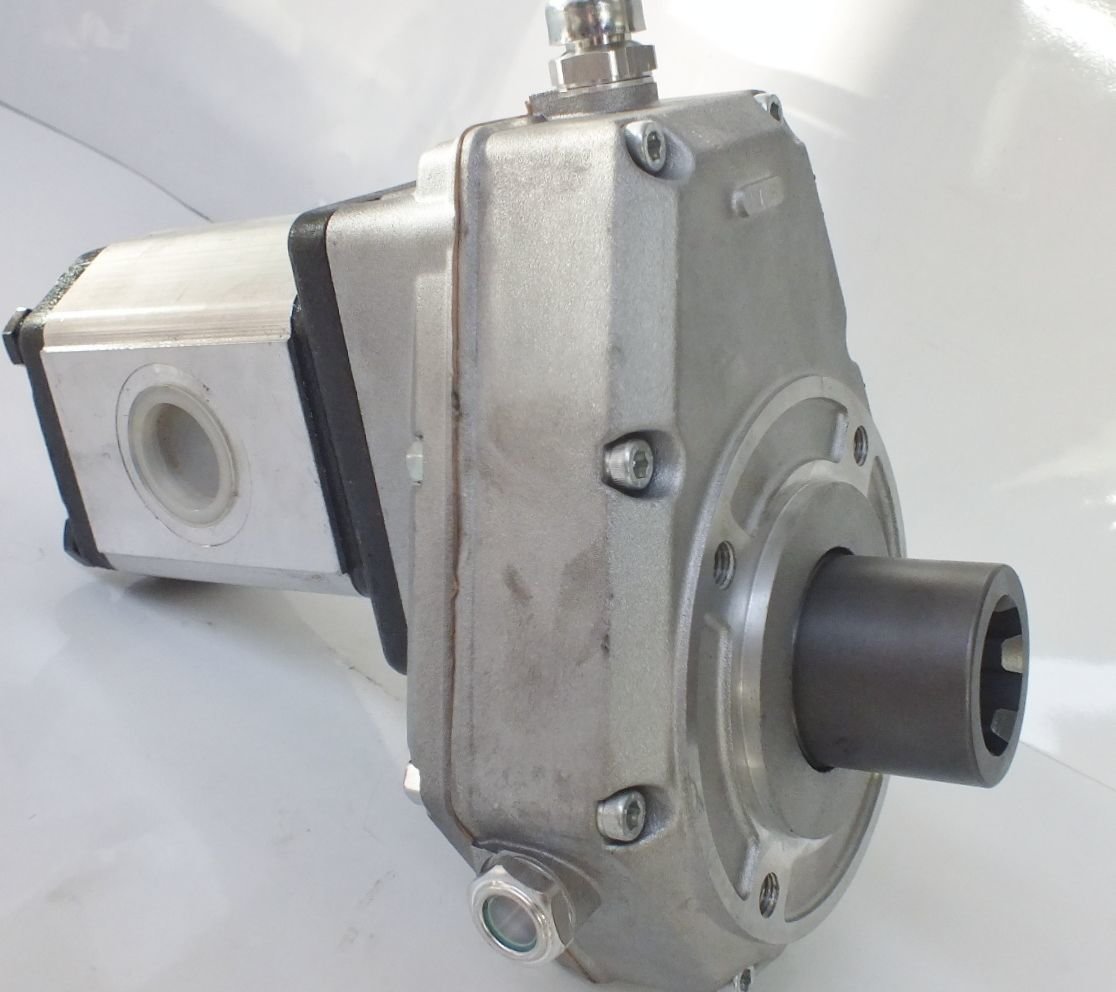 PTO SPEED INCREASE GEARBOX PUMP UP TO 50Lpm MADE TRACTORS
SKU 7100 Grp 2
Product Details
7100 series with Group 2 pump
This brand new Italian made P.T.O (Power Take Of) comprises of a 3:1 speed increase Gearbox and Hydraulic Gear Pump. It is ideal for adding Hydraulic power to tractors and landscape equipment that are not already equipped with hydraulic circuits.

Used to power hydraulic Auger's, front-end loaders, mowers, rotary sweepers, Post Hole Borers and Post Drivers. These gearboxes are used mainly for connecting to the power output shaft at the rear of the tractor to driving hydraulic pumps to generate fluid power.
The standardised tractor PTO output of either 540 (turns into 1620 Rpm) or 1,000 rpm, is, in this way, increased to optimum operating speeds for the hydraulic pumps.
This gearbox and pump offer either direct or remote mounted options to the tractor P.T.O to provide independent hydraulic service. This gearbox is rated to provide up to 20 KW or 27 HP to the hydraulic gear pump. This figure is nothing to do with your engine horsepower
We also have a gearbox that will produce up to 37 KW / 50 Hp if you require very high flows / pressures.
This comes with a standard Female 1-3/8" 6 splined shaft generic to most PTO output shafts.(photos) If your shaft has ' grooves', there is an Optional Shaft "Quick release" coupler available for extra $40.
Please see last photo which shows 'groove' in PTO shaft which fits the 'Quick' release. Also available at no extra cost is a Male shaft. There is the option of a few other couplers so feel free to ask or send photos for confirmation.
Buy with Confidence from a long established Hydraulic Service Center get a 12 month warranty and an Australian Tax Invoice with your purchase of this item.

Please refer to LPM/ Hp chart in photos above
This step up gearbox has a ratio of 3:1 which means, if your PTO is spinning at 540 RPM, it will step up the speed to 1620 RPM . There are a variety of pump sizes to choose from, please see options next to photos. All are the same price.
The main considerations in choosing the correct size pump for you application, is the amount of flow required & the pressure required. As the need for higher pressure (PSI) is increased, the power required to produce this pressure rises.
It is easy to pump fluid at a high flow rate if low psi pressure is required, but it takes a lot of HP to pump high flow rates at a high PSI. Please refer to our chart below, & feel free to message or call with any queries.
We also supply re-usable field fit hose tails & any hydraulic valves or adaptors you require.
Please take careful note of flow & pressures in chart below. This unit is rated for up to 10Kw hydraulic power only. If you require more flow & higher PSI, please see our other size gearboxes/pumps in agricultural category of our store.
PLEASE NOTE BELOW ** All Hydraulic pumps typically have a 20% efficiency loss factor. Numbers supplied below are gross figures, please take of 20% for correct LPM
OIL; Please use Universal Tractor transmission Oil. ie. Mobil Fluid 422 (non foaming agent)
Please send us a message for any enquiries or extra fittings.
FREIGHT ; $45 to most areas. *Please note some remote addresses may incur an additional freight charge. We prefer business or street addresses, not PO boxes so we can use couriers for better speed of delivery
Save this product for later
All your hydraulic needs in one place! Search products or browse categories below
Products on Hydraulic.Online are described and explained in non technical terms, with photos, charts and or videos. Most of our clients also tend to upgrade to more complete systems this is because they can pick up a phone and call us for a consultation. Call us and experience it for yourself! Australia +61 (07) 5563 1982.
(Hours 8am – 4pm Monday – Friday AEST, excludes National & QLD public holidays)