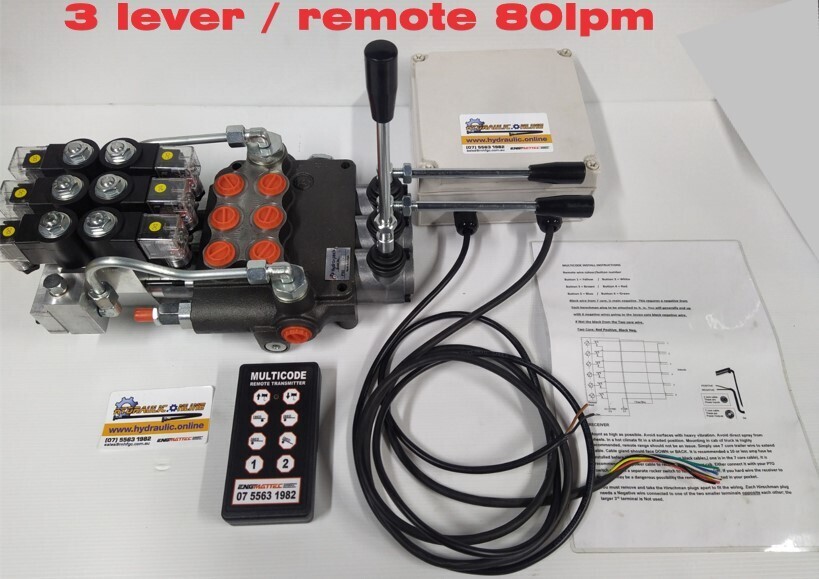 REMOTE CONTROL & 80 LPM VALVE FOR TILT TRAY TRUCKS etc THREE LEVER
SKU HID MB5 3 RC
Product Details
Ready to fit 3 Spool Hydraulic Valve and 8 Button Radio Remote Control Kit with Transmitter and Receiver
European made 3 Spool Hydraulic Flow Control Valve fitted with Compact, Reliable Electro-Hydraulic Actuators.
This is one of our most popular Tilt Tray Remote Control Package as it Improves your Safety as well as your Speed and Efficiency.

Fact! When you Improve your Business's Speed and Efficiency it always puts more money into your pocket and will get you to:
the Next Job Faster or,

Home Quicker or,

to the Boat Ramp sooner or,

to the Pub Earlier or

Fill your favourite pastimes here!

......................................................

.......................................................
Simply swap out your old, tired, loose (and leaky) manual actuated valve for a new Tidy Remote Control Valve.

This a brand new high-quality European made monoblock Valve rated to 80 litre per minute 250 bar (3600 psi) valve complete with an 8 button radio remote control unit built to Australian design and Standards.

Our 8 button remotes are a "Multicode" unit, so no issues with interference.
The radio transmitter range is huge, well over 100 metres. Aerials are available if you wish to mount the receiver in a toolbox etc. We supply a 'how to fit' video, & PDF.
Allow approx 6 hours to remove & fit one of these complete units.
REMOTE CONTROL INFORMATION
This 8 button remote control is sent set up to control three double acting functions, winch, tilt, slide. There are two spare button, however these will need extra cabling to function. We can install the extra two functions wires, for an additional cost, or you can retro fit if required. These buttons could be used for worknights etc etc. The receiver is easily able to be adjusted to allow for 'latching' of buttons, ie press once, function stays on until pressed again.
The battery in the hand piece remote is a common 9 Volt, changing it is just done with a small Philips head screwdriver, & the remote is self pairing (Multicode)
There are two options; See other listings for 5 spool valve package
A 3 three lever, all electro/hydraulic actuated valve, or..
5 lever valve, 3 of which are remotely operated, whilst the other two are manual controls only. (ideal for car cradle)

This unit can replace the existing hydraulic valve found in most medium to large Tilt Tray trucks' or any other mobile plant equipment that requires Radio Remote Control capabilities.
Simply bolt on, either re-attach your existing hoses, or at the worst case buy adaptors (we can supply adaptors cheaply) to make your hose threads compatible.
Construction = Monoblock
Material of Construction = Steel
No of Spools = 3 with Electro-Hydraulic Actuation
No of Electro-Hydraulic Actuated Spools = 3

Material of Construction = Case Hardened Steel
O-rings made of NBR (Buna-N®)
Max Flow Rate = 80 liters/min (20 Gallons per Minute)
Max Working Pressure = 250 Bar (3600 PSI)
A and B Ports Pressure Rated to 300 bar (4400 psi)
Spool Type = Cylinder
Coil voltage = 24 Volt DC +/- 10% (12 Volt DC also available)
Coil power rating = 24 watts
Coil duty cycle = 100% 24 watts
Built-in Relief Valve = Adjustable (factory set at 140 bar 2000 PSI) simply use Alan key to increase relief pressure and lifting or sliding power.
Pressure Port 1/2" BSPP
Cylinder Ports 1/2" BSPP
Tank Port 3/4" BSPP
Power beyond port 3/4" BSPP
Operating temperature range: -20 °C to + 80°C
As for the electrical hookup, there are 3 terminals inside the Hershman plug.
Please attach to the two opposite each other & ignore the rear terminal.
Save this product for later
All your hydraulic needs in one place! Search products or browse categories below
Products on Hydraulic.Online are described and explained in non technical terms, with photos, charts and or videos. Most of our clients also tend to upgrade to more complete systems this is because they can pick up a phone and call us for a consultation. Call us and experience it for yourself! Australia +61 (07) 5563 1982.
(Hours 8am – 4pm Monday – Friday AEST, excludes National & QLD public holidays)