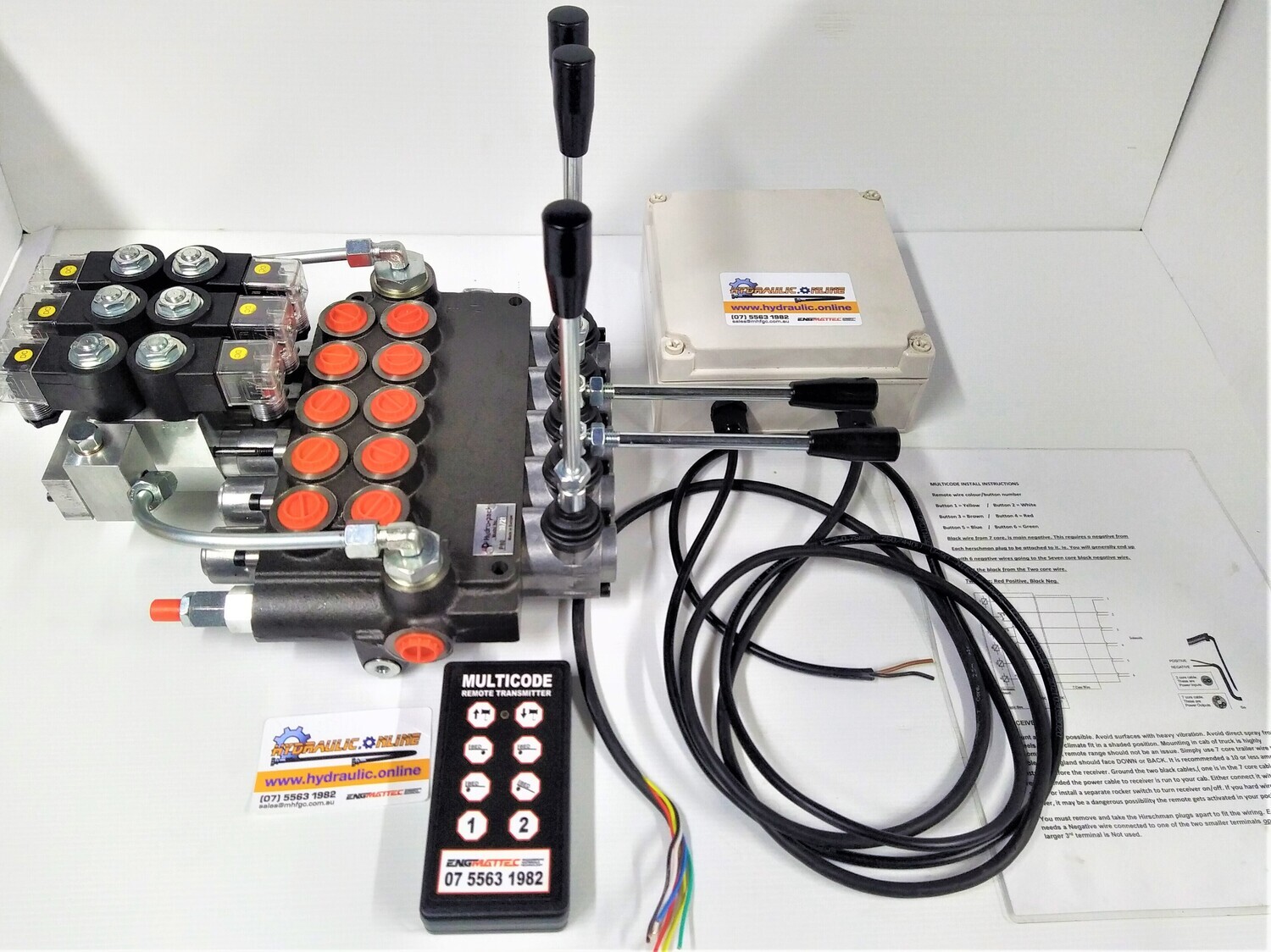 Remote Control Package 5 Spool 3 Remote Electro-Hydraulic Valve 80 Lpm
SKU HID 3/5 REMOTE PACK
Product Details
TILT TRAY 5 SPOOL VALVE COMPLETE WITH RADIO REMOTE CONTROL PACKAGE
This 5 spool Monoblock valve comes with all three (3) of the spools fitted with Electro-Hydraulic Solenoid cartridge valves, & two for your car cradle that are manual actuated only.
Complete with remote control. IDEAL FOR TILT TRAY TRUCKS WITH CAR CRADLE.
To fit, Simply bolt-on, either re-attach your existing hoses, or worst case buy adaptors (we can supply cheaply) to make your hose threads compatible. Some wires do need to be attached, instructions are provided.
Made in Europe this monoblock valve is specifically designed for remote control applications.
The valve also comes standard with 5 manual override hand actuation levers. . # Please note, for all our monoblock valves, levers can be at either vertical or horizontal fitting. ALSO, the lever boxes, are able to be rotated 180° so that you can further orientate the levers.
Electro-Hydraulic Control valves eliminate the need for a separate compressed air actuation system.
You Do Not Require the following, Clean dry air, an Air pump, Air tank, Air driers, Pressure regulators, and lubricators to remove moisture, rust, dust, and lubricate the air.
Not to mention and light flexible air tubing that is susceptible to deterioration and damage.

This in turn has the following advantages
Greatly simplifies and tidy's up the hydraulic system's architecture,
Speeds up installation and set up and
Improves reliability and consequently safety.
Principals of operation.
Electro-hydraulic Valves use Solenoid actuated Cartridge Valves to
divert a small amount of system Oil flow from the actual hydraulic circuit to
move the flow control spool and
change the direction of the flow of hydraulic oil.
These valves are generally used in Remote Control Applications, such as those found in
Automotive Tilt Trays,
Mobile Plant
Wood Chippers
Stump Grinders and
Agricultural equipment.
This model has many more useful applications and can be used to operate up to 3 separate functions that require semi automatic actuation of Valves, Cylinders or Rotating motors.
MANUFACTURED IN EUROPE THIS QUALITY 5 SPOOL VALVE IS RATED TO FLOW up to 80 LITERS / MINUTE (20 Gallons / Minute) at pressures up to 250 bar (3600 psi).
IDEAL FOR TILT TRAYS, TRUCKS AND ALL MOBILE PLANT, Cranes, Skip Bin Trucks, Front end Loaders, Backhoes and any hydraulic project REQUIRING 3 FUNCTIONS WITH REMOTE CONTROL CAPABILITY, READY FOR FITTING.
This unit can replace most small to large tilt tray trucks existing spool valves or any other mobile plant equipment that requires remote control capabilities.

Tilt trays are a special type of flatbed truck, in that the flatbed on the truck is not fixed onto the truck's chassis, but it can be inclined to different angles as well as slid forwards and backwards.
The movement of the flatbed is almost always actuated using high-pressure hydraulic pumps, motors, and cylinders.

The industry, in general, is now slowly moving from the manual control of the hydraulic valves (used to direct oil flow to the different hydraulic cylinder and motor functions for tilt tray movement) to safer and more efficient radio remote control systems.
Tilt tray trucks are used to pick up and transport all sorts of equipment, machinery including,

Cars, Light trucks and most things on wheels.
Earth Moving equipment such as skid steer loaders, excavators and rollers,
Trailers loaded with Boats, Campers, Caravans, or Equipment,
Empty and Full Shipping Containers,
Planes (without wings attached)
Forklifts,
and even products packed on Pallets or Racks.
Most tilt trays also have a Heavy-duty Winch with a Steel cable to aid or assist in pulling on or lowering off the above-mentioned equipment.

Simply bolt on, either re-attach your existing hoses, or worst case buy adaptors (we can supply cheaply) to make your hose threads compatible.
Specifications
Construction = Monoblock
Material of Construction = Steel
No of Spools = 5 Spools all with Manual override lever
No of Electro-Hydraulic Actuated Spools = (3) Three.

Material of Construction = Case Hardened Steel
O-rings made of NBR (Buna-N®)
Max Flow Rate = 80 liters/min (20 Gallons per Minute)
Max Working Pressure = 250 Bar (3600 PSI)
A and B Ports Pressure Rated to 300 bar (4400 psi)
Spool Type = Cylinder
Coil voltage = 24 Volt DC +/- 10% (12 Volt DC also available)
Coil power rating = 24 watts
Coil duty cycle = 100%
Built-in Relief Valve = Adjustable (factory set at 175 bar 2500 PSI)
Ports Sizes
Pressure Port 1/2" BSPP
Cylinder Ports 1/2" BSPP
Tank Port 3/4" BSPP
Power beyond port 1/2" BSPP
Operating temperature range: -20 °C to + 80°C
Dimensions = L x W x H = 200 x 200 x 60 mm
Weight 12
This a High-Quality Valve and has many outstanding features, including:
built-in adjustable relief valve
high performance,
high efficiency,
Compact construction.
Low-pressure drop.
Long service life.
Choice of various ports and circuit valves.
High accuracy spool is hardened for long term accuracy.
Manual Override Handles for fine control and emergency operation.
Please note* These 80 LPM valves require a separate "Power Beyond" sleeve to operate a valve downstream.

Installation; As per photos, there is One side intry pressure port "P" , and one side entry Tank return port "T ",
Top entry Pressure and Tank ports are available for use.... with modifications to the Eletro Hydraulic Supply and Return piping.
There is also a "N" port. This "N" port is for the: "Power Beyond" function.
This allows another valve to run pressure from this "N" port downstream if necessary.
(Power beyond must be less than or equal to 80 litres / min flow)
A & B ports will connect to your cylinders, motors or other functions.
REMOTE CONTROL INFORMATION
This 8 button remote control is sent set up to control three double acting functions, winch, tilt, slide. There are two spare button, however these will need extra cabling to function. We can install the extra two functions wires, for an additional cost, or you can retro fit if required. These buttons could be used for worknights etc etc. The receiver is easily able to be adjusted to allow for 'latching' of buttons, ie press once, function stays on until pressed again.
The battery in the hand piece remote is a common 9 Volt, changing it is just done with a small Philips head screwdriver, & the remote is self pairing (Multicode)
---
Buy with Confidence from a long-established Hydraulic Service Center get a 12-month warranty and an Australian Tax Invoice.
Email: hosefixersaustralia@gmail.com
Phone: 07 5563 1982
Hours: 8am to 4pm Monday - Friday, excluding public holidays.
Tax invoices are supplied with every purchase.
Out of Stock
It is our desire to always have every listed item actively in stock. Occasionally (but very seldom) due to high demand,
short supply or human error we may be momentarily out of stock on an item.
If this happens you will be notified and given the option to either cancel for a full refund or wait for the part to come in (typically 3-14 days).
If you have any questions please don't hesitate to contact us for further assistance,
Best regards,
Hydraulic.Online
---
---
***DISCLAIMER***
IMPROPER SELECTION, INSTALLATION, IMPLEMENTATION AND/OR OPERATION BY ANYONE OTHER THAN PERSONS WITH APPROPRIATE TECHNICAL AND MECHANICAL TRAINING CAN RESULT IN DAMAGE TO EQUIPMENT OR PROPERTY, SERIOUS PERSONAL INJURY OR DEATH. PROPER PRECAUTIONS AND SAFETY PROCEDURES SHOULD BE IMPLEMENTED PRIOR TO INSTALLATION AND OPERATION OF EQUIPMENT.
Save this product for later
All your hydraulic needs in one place! Search products or browse categories below
Products on Hydraulic.Online are described and explained in non technical terms, with photos, charts and or videos. Most of our clients also tend to upgrade to more complete systems this is because they can pick up a phone and call us for a consultation. Call us and experience it for yourself! Australia +61 (07) 5563 1982.
(Hours 8am – 4pm Monday – Friday AEST, excludes National & QLD public holidays)