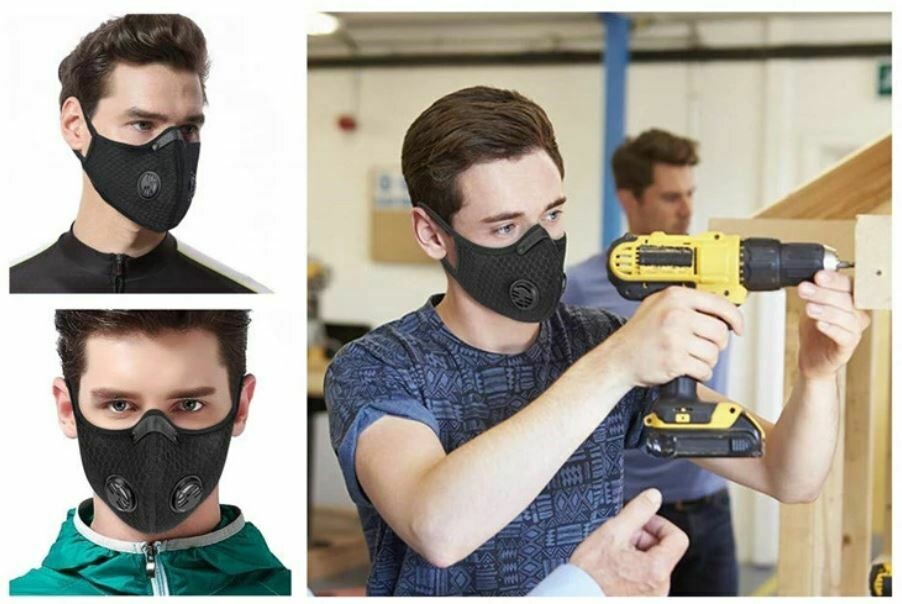 Respirator Mask Dual Valve 5 Layer Filter FFP2 N95 Washable
SKU RFMBLACK
Same Day Dispatch if Ordered Before 2pm AEST
Product Details
High-Quality Respirator Masks With Dual one way Easy-Breathe Out Valves, They are - Washable & Reusable. Comes with replaceable 5 layer activated carbon filters as well as a FREE spare set of filters.

Certified EU Standard CE FFP2 compatible with N95 USA, P2 (AS/NZ)

Also available as a cost-plus option is a pack of 5 spare filters.

Ideal for the dusty upcoming Dusty Dry Smoky Bushfire Season in Southeast QLD, South Australia and Western Australia.
***PLEASE READ***
We are experiencing a high volume of orders during the latest Coronavirus spike.
We understand the urgency with which these are required and we are upgrading all orders to Express Post and endeavour to dispatch all orders received before 2pm AEST on the same day.
As we distribute from our retail location we may not have your preferred colour on the shelf which may result in a 24hr delay in dispatching your order, particularly for large orders.
For this reason, we have added a "Substitute" to help ensure same day dispatch.
Also great for the following trades and tradies,
Tree Loppers, Wood Chippers, Stump Grinding,
Earth Moving and excavation, Lawn Mowing and garden care,
Demolition works, Screening plant operators,
Farming, Spraying and Harvesting.
Construction, Floor Striping, Sanding and Grinding,
Shot Blasting, painting and Minor Spray Painting.
Motorcycle touring/Postie Bike rider
Certification is to European Standard FFP2, (Europe EN 149-2001) + AI-2009.

FFP2 respirators are ideal for filtering non-oil-based particles such as those resulting from Wildfires, PM 2.5 Air Pollution, Volcanic Eruptions, or Bioaerosols (e.g. Viruses) as well as some Oil based particles.
Videos on a very similar design and specifications to our face mask and instructions on how to fit and wear.
This mask is similar and compatible to the following standards and requirements of other countries
• N95 (United States NIOSH-42CFR84)
• KN95 (China GB2626-2006)

• P2 (Australia/New Zealand AS/NZA 1716:2012)
• Korea 1st class (Korea KMOEL - 2017-64)
• DS (Japan JMHLW-Notification 214, 2018)
Please be aware, prior to selecting a respirator, users should consult their local respiratory protection regulations and requirements or check with their local public health authorities for selection guidance.

FFP2 masks offer protection from fine toxic dusts, fibres, aqueous mists, and oil based mists.

The Extract below explains the compatibility of this mask with other world wide standards
Description
During pandemic or emergency situations, health authorities often reference these standards when making respirator recommendations, stating, for example, that certain populations should use an "N95, FFP2, or equivalent" respirator.
This document is only intended to help clarify some key similarities between such references, specifically to the following FFR performance standards:
• N95 (United States NIOSH-42CFR84)
• FFP2 (Europe EN 149-2001)
• KN95 (China GB2626-2006)
• P2 (Australia/New Zealand AS/NZA 1716:2012)
• Korea 1st class (Korea KMOEL - 2017-64)
• DS (Japan JMHLW-Notification 214, 2018)
As shown in the following summary table, (see pictures in listing) respirators certified as meeting these standards can be expected to function very
similarly to one another.
Inhalation resistance testing flow rates range from 40 to 160L/min. Exhalation resistance testing flow rates range from 30 to 95 L/min.
Some countries require testing to be performed at multiple flow rates, others at only the high or low end of those ranges.

Although this appears to suggest that the standards' requirements for breathing resistance (also called "pressure drop") differ from each other, it's important to understand that pressure drop across any filter will naturally be higher at higher flow rates and lower at lower flow rates.
Various pressure drop requirements are actually quite similar. The chart (see pictures in listing) shows a representative filter pressure drop curve.
More info and data on our masks:

Personal Protection - Offers protection against airborne particles and droplets, smoke, smog & dust.
Effortless Breathing - Dual one-way discharge valves and mesh material design allows natural breathing without compromising filtration.
Lightweight Durable Construction - Mesh nylon fabric offers excellent permeability. Comfortable to wear, effortless breath-ability and suited for harsh & humid conditions.
Highly Engineered and Designed - with Flexible nose clip, over-ear loop design, adjustable velcro strap to fit most sized heads. All in all this design helps the mask form a closed seal around the mouth, ensuring that when breathing, all air is filtered through the 5 layered activated carbon filter. Breathing out the air will be discharged through the one way breath-out valves.
FEATURES:
Nylon Mesh Mask, reusable, durable, washable, flexible and breathable
Activated carbon filter (replaceable)
Nose Clip, adjustable ensures optimal seal
Over-ear loop hook design (prevents slipping)
Adjustable Velcro strap to fit most heads
Dual one way discharge valves
BENEFITS:
Active carbon filters 95% of smoke, dust, chemicals, fumes & particles above 2.5 microns.
Suited for warm environments with maximum ventilation.
Adjustable nose clip helps ensures a total seal, together with dual one way breathe out valves prevents fogging.
Over-ear design ensures no slipping.
Ensures a perfect fit with adjustable hook & Velcro strap.
Dual one-way discharge valves ensures comfortable breathing & mask does not heat up.
Mesh mask & valves are washable & the filter is replaceable (filter is not washable).
CONTENTS:
1 x Mesh Mask (come with one pair of valves, 1 x activated carbon filter fitted & 1 extra filter)
FAQ:
Q: What is the life expectancy of the activated carbon filter?
A: The filters last on average around 60 hours of continuous use (around 1 week if using it for 8 - 10 hours a day) in a relatively clean air environment.
In a dusty / smoky environment it lasts less, time varies depending on the amount of pollutants in the air and accumulation of particles on the filter.
Usually when you find it difficult to breathe you should replace the filter.
Approximate filter life (usage duration);
50-60 hours of continuous use when protecting against airborne pathogens, allergens, odors etc.
30-40 hours of continuous use in light dusty / smoky exposure e.g. off-road, construction, demolition etc.
0-20 hours of continuous use in heavy dusty / smoky exposure to smoke from bush fires, heavy smog and dusty conditions.
Save this product for later
All your hydraulic needs in one place! Search products or browse categories below
Products on Hydraulic.Online are described and explained in non technical terms, with photos, charts and or videos. Most of our clients also tend to upgrade to more complete systems this is because they can pick up a phone and call us for a consultation. Call us and experience it for yourself! Australia +61 (07) 5563 1982.
(Hours 8am – 4pm Monday – Friday AEST, excludes National & QLD public holidays)