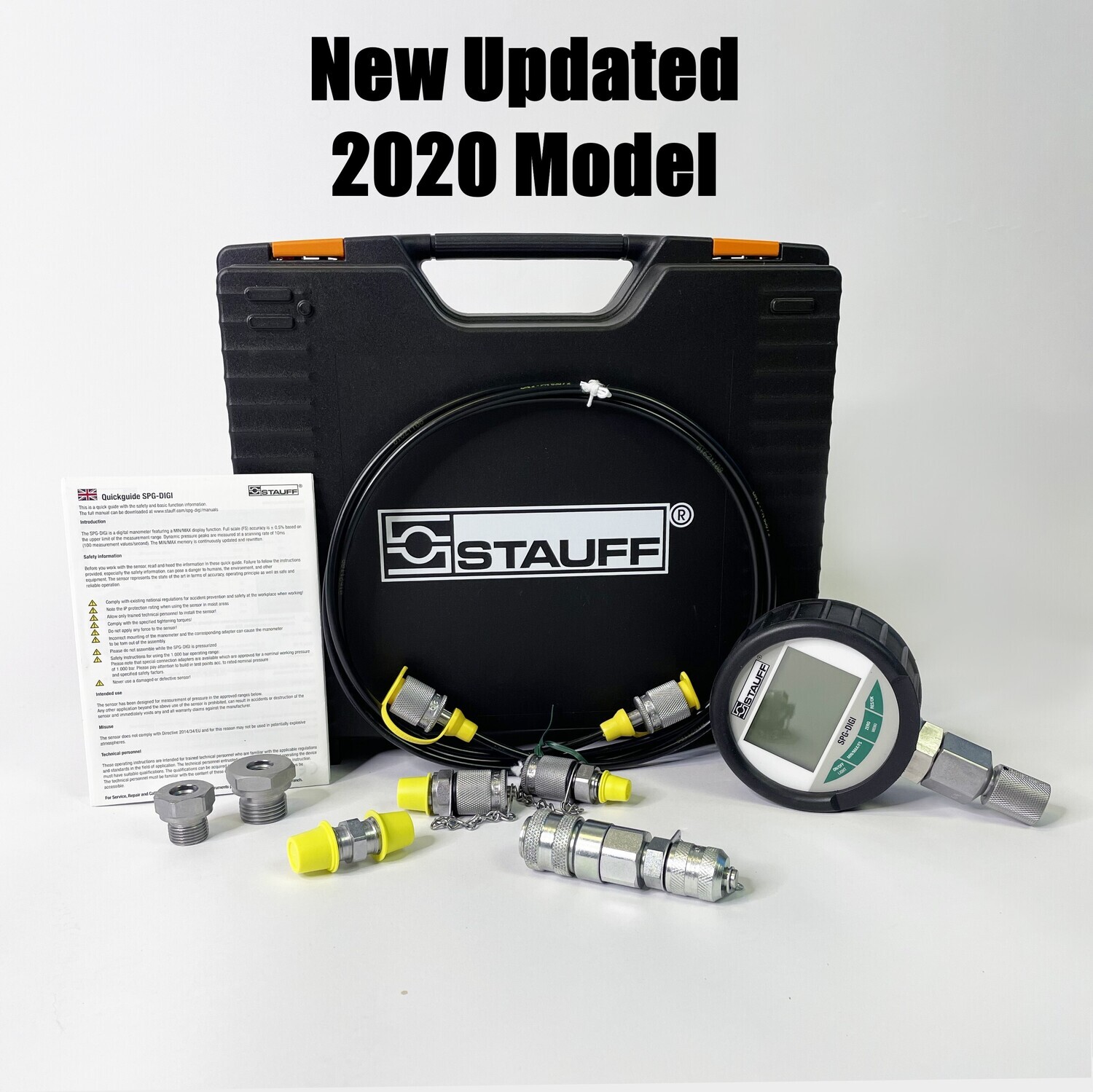 STAUFF Digital Pressure Gauge 0-600 bar 2m Test Hose.
SKU 10086
Product Details
Pre-order:
Pre-order for June 2022 delivery
P

recision 80 mm Diameter Digital Pressure Gauge and Pressure Testing Kit complete with a 2-meter long test Hose and various Adaptors
All packed in a durable, Foam-Filled, Oil and Water Resistant Plastic Protective Case,
P

ressure range from 0 - 8700 PSI (0 - 600 Bar)
Designed and Manufactured In Germany by Parker Hannifin for Stauff Corporation, this is a durable instrument that has been assembled to measure & display the pressure of Oil, Water & Lubricants.
It will display current, min & max pressure in Bar, PSI, MPa, kPa ,mbar.
Accuracy 0.25% full range,
Ingress Protection = IP 65 (6 = Completely Dust Tight, 5 = Able to Withstand Water jets from every direction)
This is an essential tool for any mechanic, technician of all types of hydraulic machinery.
Available in various ranges
Neg -1 - +16 bar (240 PSI),
0 - 600 bar (8800 PSI)

Advantages of using a "STAUFF DIGI" digital pressure gauge when compared to an analog or mechanical pressure gauge.
Advantage number one
The main advantage is you only need one gauge, with analog pressure gauges you need multiple gauges to more accurately read your desired target pressure (if it is even known).
Advantage number two
The other very obvious advantage is digital gauges are easy to read and you can also change the display units and or the way the pressure is displayed, for example, you may want to see numbers or you may want to see the pressure in the form of a Bar chart, with a digital pressure gauge it is easy to press a couple of buttons and change the reading from PSI (pounds per square inch) to for example bar or MPa (megapascals) or even KPa (kilopascals).
Advantage number three
The durability and lifespan of a digital gauge is much longer than that of an analog gauge, this is because analog gauges rely on mechanical parts and mechanical parts that expand and contract with pressure may only be reliable for a million cycles or so whereas a digital pressure gauge can be good for hundreds of millions of Cycles.
Advantage Number Four
Having one digital gauge that can measure all the pressure ranges that you may and or will encounter in your day to day work will eliminate the possibility of over pressurising by selecting the wrong gauge and damaging a mechanical gauge.
In addition, you will be more efficient and effective at work because you're not wasting time changing analog gauges because you have realised that the analog pressure gauge that you selected is in the wrong range. For example, trying to measure 350 PSI with an 8000 PSI analog gauge, you just won't be able to read anything accurately on the dial because the dial will not move very much at such a low pressure.
Advantage number five
Analog pressure gauges are usually quite sensitive to vibration and shock whereas the "STAUFF DIGI" digital pressure gauge is good for up to 5g of Vibration and up to 25g of shock.
Advantage number six
Digital pressure gauges can be used in dark and dimly lit environments because the Stauff DIGI gauge also has an illumination (backlight) function so it is much easier to read in low light conditions without the need for an additional external light source, this is because the light source is built-in to the unit.
Advantage number seven
The Stauff digital pressure gauge even though it's rated for 600 bar or 8,700 PSI it will safely measure up to 1000 bar 14700 PSI and has the capability of measuring even higher without damage in addition it has a minimum burst pressure rating of 2400 bar or 32,000 psi
Advantage number eight
The "STAUFF DIGI" digital pressure gauge has a maximum and minimum pressure memory, this means that the maximum pressure reached is indicated in a separate read out to the actual real-time pressure, this is an ideal circumstance when testing equipment, as it eliminates guesswork and improves accuracy in reporting results.
Buy with Confidence from a long-established Hydraulic Service Center get a 12-month warranty and an Australian Tax Invoice.
Stauff DIGI Digital Pressure test kit.

. Please select gauge range in dropbox. It comes in a safe case along with 2M long test hose & test 20 adaptors as per below. We recommend simply 'teeing' into a pressure line & using supplied Bsp adaptors.
# An option of receiving a Female Cat Test point is available
These gauges fulfill the safety requirements of German Standards EN 837-1/S2.
It has a range of readouts (photos) & comes with instructions. This combination allows instant accurate pressure reading simply by attaching to standard test ports found on most hydraulic machinery, tractors etc. This will give you a clear diagnosis of actual pressures and or potential problem areas on hydraulic valves, pumps or can be used anywhere in the hydraulic system
Features:

Lightweight with carrying handle and locking latch
Tough, easy to clean plastic case
Storage compartment for test hose
Oil resistant foam
Digital pressure gauge
choice of one of the standard digital pressure gauges listed below:
1 x -1-+16 BAR/PSI
1 x 0-600 BAR/PSI
Zinc/Nickel-plated metal fittings
Test hose 2 meters long with dust caps
Suitable for mineral oil-based fluids
Working Pressure to 600 bar
Backlit display
Swivel gauge
Test 20 x 1/4" BSPP
Test 20 x 1/8" BSP
1/2" BSPP x 1/8" Bspp reducing bush
3/8" BSPP x 1/8" Bspp reducing bush

Test 20 x test 20 Joiner
Rubber boot to protect digital gauge
FULL SPECIFICATIONS
▪ Objective, To measure and display pressures
Features
▪ Bar graph display (drag indicator)
▪ Background lighting
▪ Zero correction
▪ Battery charge display
▪ With the CE mark
▪ Calibration certificate on request, extra $100
Technical Data
Materials
▪ Housing made of die-cast Zinc with TPE rubber
protective covering
▪ Wetted parts: Stainless Steel 1.4404, NBR, ceramic
▪ Gaskets: NBR (Buna-N®), FPM (Viton®)

Pressure Ranges
▪ -1 ... 600 bar / -14.5 ... 8702 PSI
Dimensions and Weight; Gauge
▪ Diameter: 79 mm / 3.11 in
▪ Depth: 33 mm / 1.30 in
▪ Weight: 540 g / 1.19 Ibs
Display
▪ Text display 4 1/2-digit
▪ Size: 50 x 34 mm / 1.97 x 1.34 in
▪ Actual value display: 15 mm / .59 in
▪ MIN-/MAX or FS* display: 8 mm / .31 in
▪ Units: bar, PSI, MPa, kPa, mbar
▪ Peak pressure measurement with 10 ms sampling rate
▪ Lighted measured value display
Process Connections
▪ G1/4 made of 1.4404 Stainless Steel
▪ Vibration: IEC 60068-2-6 / 10 ... 500 Hz / 5 g
▪ Shock: IEC 60068-2-27 / 11 ms / 25 g
▪ Load cycles (106): 100
Accuracy
▪ ±0,25 % FS* typ. / ±0,5 % FS* max.
▪ Resolution: 4096 steps
Permissible Temperatures
▪ Ambient: -10 °C ... +50 °C / +14 °F ... +122 °F
▪ Media: -20 °C ... +80 °C / -4 °F ... +176 °F
▪ Storage: -20 °C ... +60 °C / -4 °F ... +140 °F
▪ Relative humidity: < 85 %
▪ Battery life: max. 1500 hours
Protection Rating
▪ IP 65 protection rating: Dust tight and protected against
powerful water jets from all angles.
mm 7/11/2021 Img/Abc/
mm 12/03/22 +vid

Save this product for later
All your hydraulic needs in one place! Search products or browse categories below
Products on Hydraulic.Online are described and explained in non technical terms, with photos, charts and or videos. Most of our clients also tend to upgrade to more complete systems this is because they can pick up a phone and call us for a consultation. Call us and experience it for yourself! Australia +61 (07) 5563 1982.
(Hours 8am – 4pm Monday – Friday AEST, excludes National & QLD public holidays)