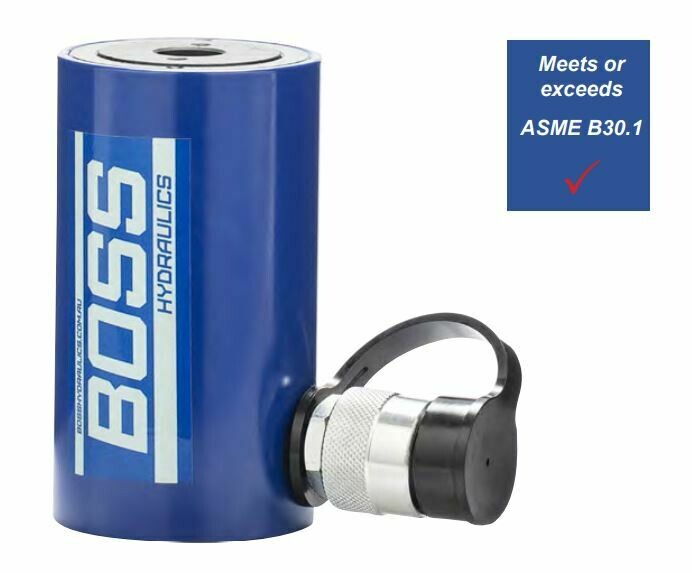 Single Acting Hollow Cylinder 20 ton 155 mm Stroke
SKU HP HL 20T155M
Product Details
Unlike Standard High Pressure Hydraulic Jacks, Hollow Cylinders have the added advantage and versatility of allowing a steel rod or high tensile rope / cable to be passed through the entire centre section of the cylinder's body.
This allows the user to apply a predetermined and measurable Tension load to Cables, Earth Anchors, and Concrete Reinforcing Bars, as well as a more accurate alternative to Setting Torque to Bolts, Nuts and Studs.
Designed, Developed and Engineered in Australia for Australian Conditions this Hollow Cylinder can generate 20 Tons of Force has a 155 mm Stroke and a 27 mm diameter Centre Hole.
These specifications make it Ideal for tensile testing of materials as well as the Critical and Important Safety Testing of manufactured products such as Seat Belt Webbing, Lifting Chains and Slings, Tie Down Straps and Chains.
Perfectly suited and frequently used for the Pulling or Pushing of Automotive and Machine Bearings as well as Extracting bushes.
Idea for automotive suspension rebuilds shops, maintenance and wheel alignment.
Hollow cylinders are also Known also as, hollow plunger, centre hole cylinder, hollow ram or hollow piston cylinder.

This single acting spring return hollow cylinder model has a 20 ton capacity and has a maximum Pull and or Push Stroke of 155 mm (6 inches) It is designed to safely operate with hydraulic supply pressures up to 700 bar (10,000 PSI) and has built in safety valve.

Manufactured from premium materials they are designed provide you with a long reliable working life in all manners of rugged industrial and construction applications.
Manufactured to meet Meet or Exceed ASME (American Society of Mechanical Engineers) B30.1 "Safety standards for Hydraulic Jacks" as well as worldwide safety standards.
Why Aquire this Hollow Cylinder from us?
We are a long established Service Centre Specialising in Hydraulics (We are not Just a Ware House, "although we do have distribution warehouses in Brisbane and Melbourne), you will also get 12 Month Warranty and an Australian Tax Invoice.
Features and Dimensions
32 cm Long 10 cm Diameter
Weight = 13.5 KG
Operation.
Single Acting, Spring return.
Long operational life - Stop rings,
Bronze coated pistons and heavy duty construction provides trouble free operation and long life.
Spring return - The Boss spring return cylinders use a heavy duty, wound steel plated spring, which provides faster retraction and holds its tension longer.
Versatile fixturing - Threaded collars and internal piston threads withstand the full load of the cylinder.
Piston "Blow-Out" protection - Incorporates a positive piston stop ring to limit piston travel at the end of the stroke, and allows the cylinder to be operated at full stroke.
Protection from contamination - Rod wiper cleans the rod surface during retraction which protects the inner cylinder assembly from dirt, moisture and other contaminants.
Rust protection - All Boss single acting steel cylinders have a nitrided finish for internal rust protection as well as being fully painted externally.

Single Acting with spring return
Hard chrome plated piston rod
Cylinder body Fully Case Hardened inside and outside by Nitriding.
Painted for rust protection
Roller burnished cylinder bore.
Save this product for later
All your hydraulic needs in one place! Search products or browse categories below
Products on Hydraulic.Online are described and explained in non technical terms, with photos, charts and or videos. Most of our clients also tend to upgrade to more complete systems this is because they can pick up a phone and call us for a consultation. Call us and experience it for yourself! Australia +61 (07) 5563 1982.
(Hours 8am – 4pm Monday – Friday AEST, excludes National & QLD public holidays)