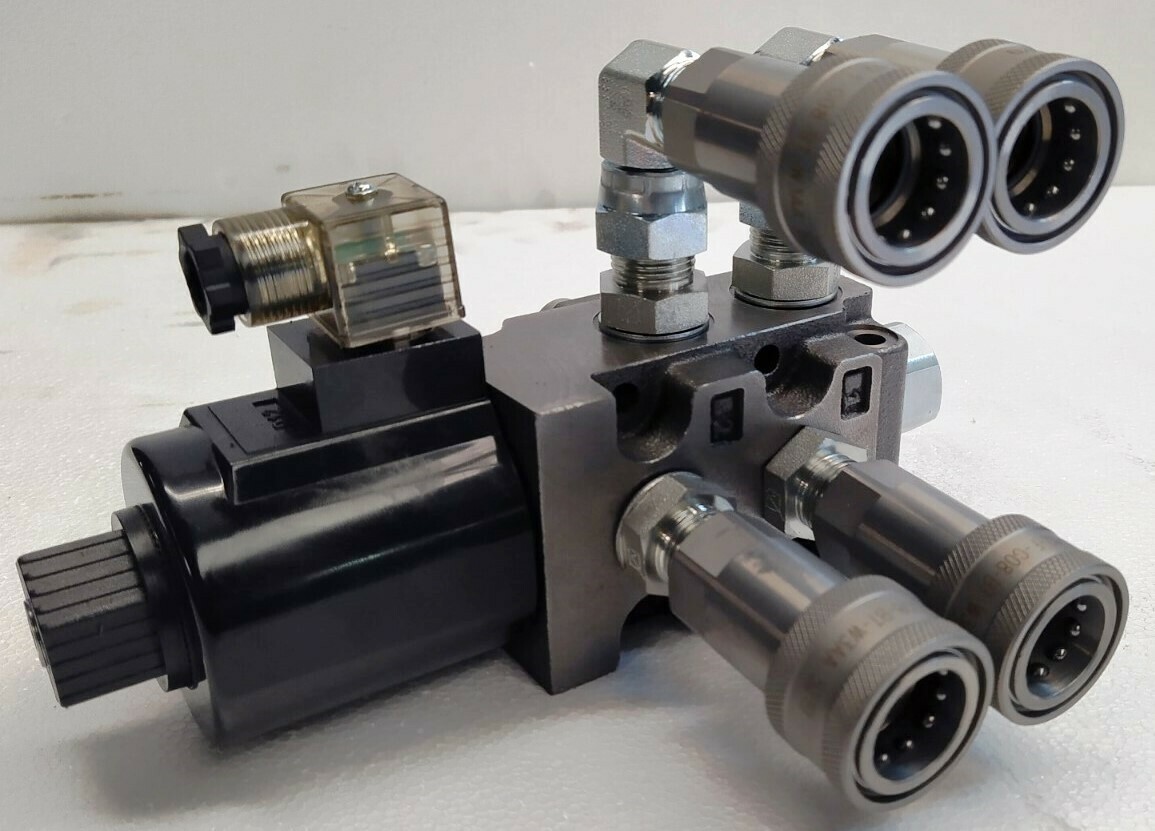 TRACTOR REMOTE 6 PORT DIVERTER VALVE 12v OR 24V TWO INTO FOUR
SKU SCS
Product Details
Add an extra set of remotes on the back of tractors for easy cross over from one hydraulic circuit to another.
How this works. If you have a tractor with only one set of remotes, and you are towing your trailer/function that has 2 separate functions, with the 6 port diverter fitted to one remote set you now have a two separate remote outlets. You can only run one function or the other at a time. However you use the same control for both. With no energy to diverter, oil flow will run to your 'default' function. Energise the diverter, & your second function will flow.
This is 12v/24v solenoid is operated via an electrical switch you can mount in the cab,(not supplied) and by turning the selector on/off you can operate two functions from the one tractor remote
The diverter valve has three pairs of connections. The first is for the tractor remote feed. The other two set of couplings is the feed for your towed behind equipment. These quick couplers are Australia's most common Agricultural Poppet style. ISO 7241-1 "A" series. # Please note, over 2250 PSI (150 bar) oil pressure the unit requires a low pressure case drain. There is a 3/8" BSPP port on the end for this purpose. A low pressure hose should be plumbed back to your oil tank.
What you get in this package;
12 or 24 volt 80Lpm 6 port divertor, 2 male & 4 female poppet couplers.(no wiring/switch included)
There is the option of supplying swaged two wire hose assemblies to enable mounting away from your remotes. Hose length is 1.5 metres, however we can custom make hoses to any length required. Please call 07 5563 1982 , working hours.
Comes with 1/2" BSPP ports flow 80 Lt/Min, at to 3000 PSI, 12 or 24 V DC solenoid coil with manual override, Square plug with indicator light,
A1 & A2 are pressure in, B1 & B2 are normally open functions (will flow oil with no voltage), & other two on face are the alternative function when solenoid coil is energised.
The 1/2" Bspp ported
Directions for use.
The 1/2" BSPP ported unit will flow up to 80 Lt/Min at a max of 315 bar / 4725 PSI pressure.

Please note, over 2250 PSI (150 bar) oil pressure the 1/2" ported unit requires a low pressure case drain. There is a 3/8" BSPP port on the end for this purpose.
Case drain is for draining away any internal leakage, rather than pressurise the valve.
Case drains must return directly to tank.
For wiring, just use the two terminals opposite each other, ignore end terminal
These divertors are also 'stackable' (see photos) . These means you could stack eg. 3 x 6 port diverters to achieve four different functions.
Buy with Confidence from a long established Hydraulic Service Center get a
12 month warranty and an ' Australian Tax Invoice.
We carry a full range of hydraulic fittings, adaptors & hosing. Please call us on 07 55631982 or email us at hosefixersaustralia@gmail.com with any questions
Call us on 0755 631982 with any questions you may have or for a different filter port size or micron .
---
IMPROPER SELECTION, INSTALLATION, IMPLEMENTATION AND/OR OPERATION BY ANYONE OTHER THAN PERSONS WITH APPROPRIATE TECHNICAL AND MECHANICAL TRAINING CAN RESULT IN DAMAGE TO EQUIPMENT OR PROPERTY, SERIOUS PERSONAL INJURY OR DEATH. PROPER PRECAUTIONS AND SAFETY PROCEDURES SHOULD BE IMPLEMENTED PRIOR TO INSTALLATION AND OPERATION OF EQUIPMENT.

Save this product for later
All your hydraulic needs in one place! Search products or browse categories below
Products on Hydraulic.Online are described and explained in non technical terms, with photos, charts and or videos. Most of our clients also tend to upgrade to more complete systems this is because they can pick up a phone and call us for a consultation. Call us and experience it for yourself! Australia +61 (07) 5563 1982.
(Hours 8am – 4pm Monday – Friday AEST, excludes National & QLD public holidays)