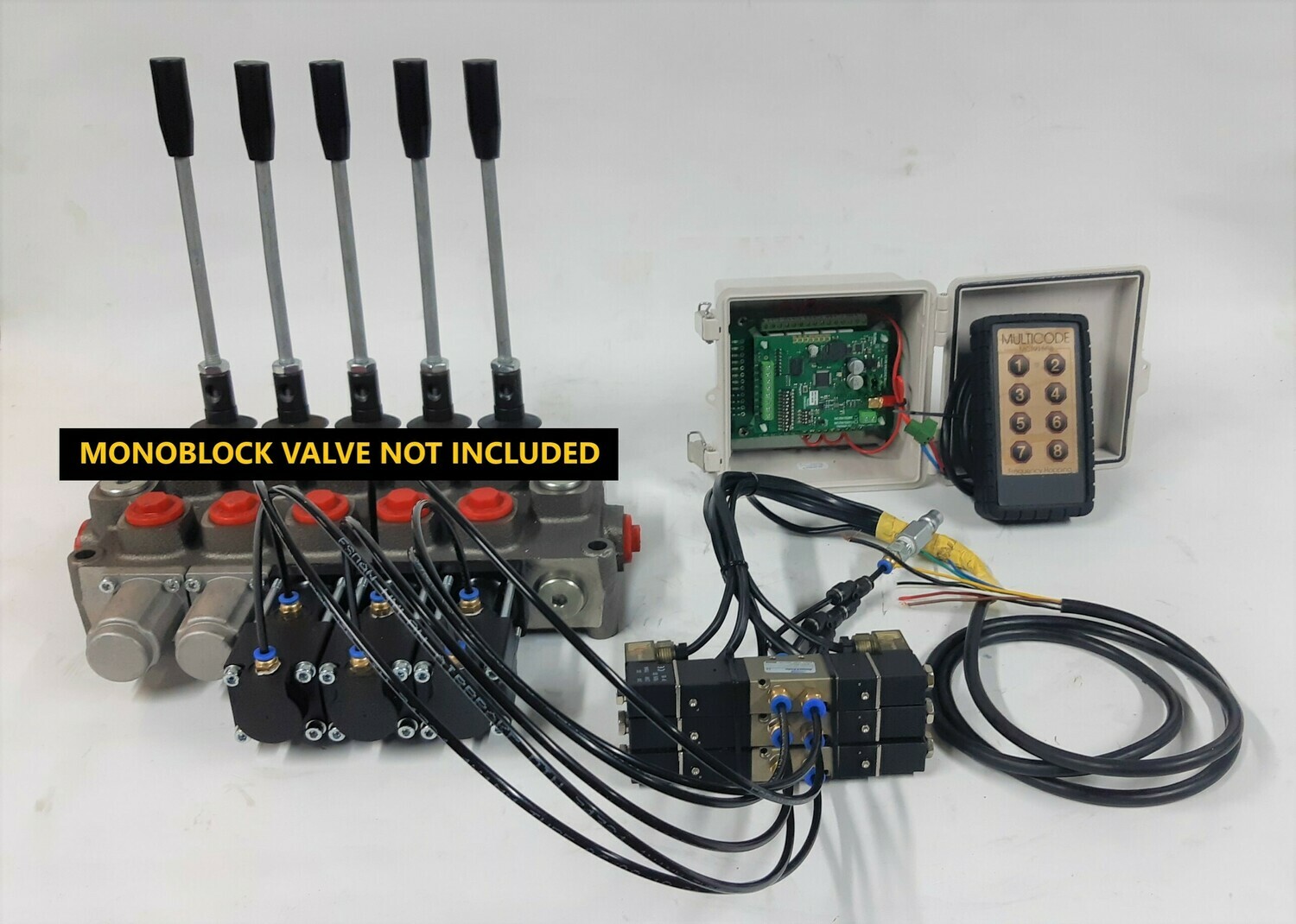 Tilt Tray Truck Remote Control Hydraulic Kit /PART KIT ONLY
SKU GAL
Product Details
If your Tilt Tray is ALREADY Fitted with a Manually Lever Actuated Hydraulic Valve made by David Brown (model Q75) or
a Galtech (model Q75), this PART kit will convert your controls to remote function.

Then This Do It Yourself (DIY) full Remote Control Kit is just what you are looking for. Increase your speed & efficiency, improve your safety.
Radio Remote Control System complete with
3 pneumatic/electric solenoid actuators (6 functions)
An eight (8) button Remote Control Transmitter and
An eight (8) Channel Receiver.
Please watch this 10-minute video of us discussing explaining and demonstrating the installation.

Our brand new system uses an Australian Designed Radio Remote control with a range of up to 150m. It has been tested and found to comply with the limits for a Class [B] digital device, pursuant to the Australian/New Zealand standard AS/NZS 4268.

The kit is made up of with 3 brand new double-acting Pneumatic Actuators designed to fit a David Brown Q75, as well as a Galtech Q75-5 Monoblock Hydraulic Flow Control Valve, both rated for oil flows up to 80 litres per minute at 3900 psi.
Contents of the Kit Include
VALVE BANK NOT INCLUDED! SEE OPTIONS
1 x 8 button hand help radio remote transmitter and
1 x 8 channel truck-mounted receiver unit with a waterproof case.
3 x 24 Volt DC Double-acting Pneumatic Actuators
1 x Air Pressure Filter Regulator Lubricator complete with air nylon air hose and push on air fittings.
If your tilt tray does not create air pressure, there are 2 options.

1. The best and most cost-effective method is you can purchase and install a small 12 or 24-volt DC air compressor (with a 100 or 125 PSI pressure switch) complete with a small air receiver tank. A lot of the 4x4 guys do this for their airbag suspension, locker diffs, winches and big tyres.

2. We can help source electric solenoid actuators for the hydraulic valve but these are usually more expensive and not so readily available.
This remote control kit will improve the efficiency and speed as well as the safety of your Vehicle Recovery and Transport Operations.

Good for the following functions
Buttons 1 & 2 Winch In & Winch Out,

Buttons 3 & 4 Tray Slide Out Tray Slide-In
Buttons 5 & 6 Tray STilt Up and Tray Tilt Down
All 6 functions still retain the manual override levers for actuation directly from the valve.
Tee Bar Lift & Lower and Slide in & Out are manual lever control only.
The Video below is taking a standard 3 spool Hydraulic valve and fitting it with Pneumatic Actuators that will receive the remote signal from the remote control units.

(please note that this Not a Galtech Valve it is a Youli from Taiwan)

Wired up and connected to 100 PSI of compressed the end result
Designed specifically for Tilt Tray recovery vehicles but can be modified to work on Crane trucks, Skip Bin Trucks, as well as Front End Loaders, Drilling rigs, farming and excavation equipment. Backhoes or any application where you need to control 5 individual cylinders or hydraulic motors (ie winches).
This unit can replace most medium to large tilt tray truck's existing spool valves. Simply bolt-on, & either reattach your existing hoses, or if a different thread, buy adaptors (we can supply cheaply) to make your existing hose threads compatible.
The remote unit simply needs power, 24 volt DC, & basic wiring to the valve solenoids (wiring diagram provided).
The hydraulic valve will require clean dry compressed air from your truck's air supply for the pneumatic solenoids and spool actuators. Solenoids come complete with push-fit air fittings and silencers.
The 8 button remote comes with a transmitter and a receiver.
Levers are still attached for convenient manual use.

These valves are regularly used in hydraulic circuits to divert the flow of high-pressure oil and are typically used to control the speed and movement of hydraulic cylinders or motors.
Please call Australia +61 07 5563 1982 or send us an email at sales@mhfgc.com.au
Many types of adapters threads, hydraulic hose and field fit hose fittings available please see our other listings

Postage

OUR EMAIL IS – HoseFixersAustralia@gmail.com

Additional information about us...
Tax invoices are supplied with every purchase
Emails will be answered within normal business hours (ie: 7.30am - 4.00pm Monday- Friday Queensland time)
Out of Stock
It is our desire to always have every listed item actively in stock. Occasionally (but very seldom) due to high demand, short supply or human error we may be momentarily out of stock on an item.
If this happens you will be notified and given the option to either cancel for a full refund or wait for the part to come in (typically 3-14 days)

$ MM 22/12/2020
Save this product for later
All your hydraulic needs in one place! Search products or browse categories below
Products on Hydraulic.Online are described and explained in non technical terms, with photos, charts and or videos. Most of our clients also tend to upgrade to more complete systems this is because they can pick up a phone and call us for a consultation. Call us and experience it for yourself! Australia +61 (07) 5563 1982.
(Hours 8am – 4pm Monday – Friday AEST, excludes National & QLD public holidays)