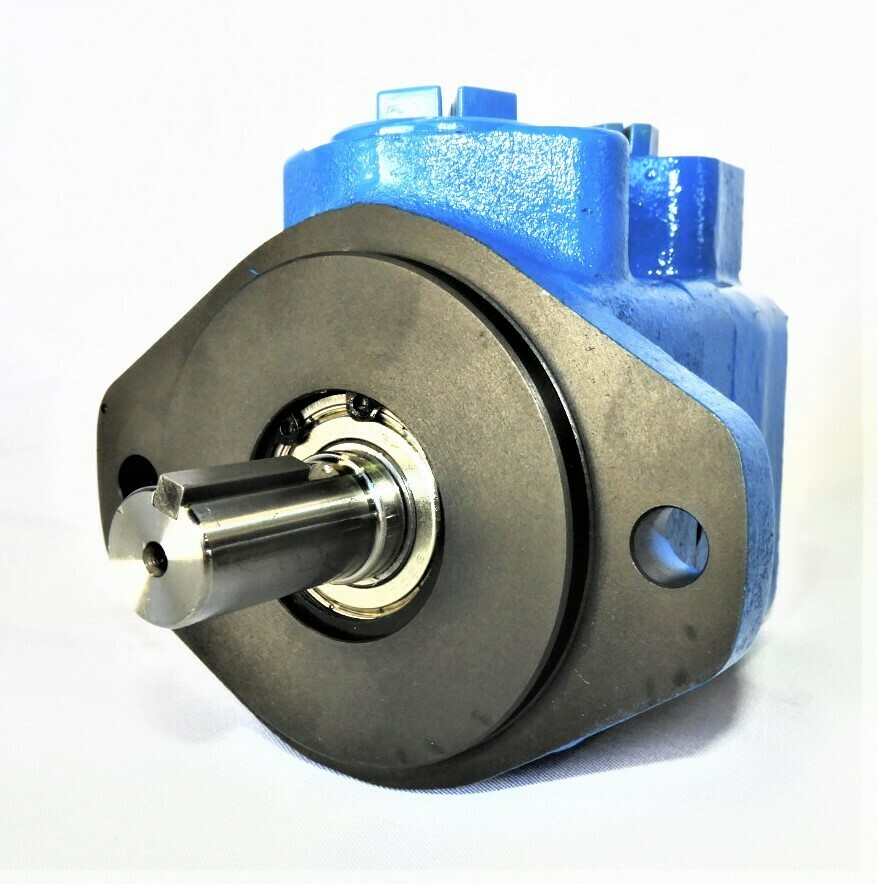 V10 Vane Pump 1-7 GPM 100% Compatible Vickers Eaton Cessna
SKU V10
Product Details
Successfully sold in this country for the last 20 years because of it is fully interchangeable with Eaton, Vickers, Cessna type V10 type Vane Pumps. Designed for low to medium pressure applications (up to 2500 PSI , 175 bar) Vane pumps offer a quieter, more flexible and re-build-able alternative to the traditional gear pump.
Free Bonus introductory offer with every new pump purchase, FREE Pump Suction and Pressure discharge adaptors only till end of May 2020 so order yours now!!
In most cases the V10 and V20 Vane pumps can also be used as a replacement pump when looking to change out a damaged or worn our gear pump.
Take a look he videos below to see and hear about the individual parts and their availability for the V10 Vane Pump, and to see an explanation on why the "balanced" design of the V10 vane pump is far superior and a great alternative or as a replacement to the gear pump.
How to calculate and order the correct V10 Cartridge size based on RPM and Flow required.
Important Note: All Cartridge Flow Rates are based on 1200 RPM shaft speed
For example. Flow required is 8 gallons per minute (8 GPM) at 1500 RPM shaft speed.
1500/1200 =1.25 therefore 8 / 1.25 = 6.4 GPM
Ordering your pump with either a 6 or 7 GPM Cartridge will get close to your desired 8 GPM.
Hydraulic.online have worked together with one of Australia's largest and most reliable importers to bring you Quality Reliable V10 Type Vane pumps at great prices. Try one for 30 days and if you are not completely satisfied return it to us for a full refund.
All V10 models in stock with all parts (shafts cartridges, end covers and relief valves) readily available for quick assembly to your custom specifications followed by same day express shipment Australia wide. *Subject to Covid-19 freight congestion.
Because Vane pumps are simple in design and re-build-able, maintenance and repair is easier, quicker and far more cost effective.
Unlike gear pumps the V10 Vane Pump pressure cartridge is internally balanced this means that there are no internal radial loads applied to the shaft and bearings even under higher pressures because of this balanced design V10 type Vane pumps generally have a much longer service life.
Additionally every part from shaft to end plate can be replaced or swapped out.
Rotation changes are simply performed by unbolting the end plate and flipping the cartridge section.
Vane pumps are often found in heavy duty power steering applications.
Specifications:
SAE-A 2 Bolt Mount for V10 and V20
1-5/16" UNO Suction Port
3/4" UNO Pressure Port.
High Temp Viton Seals supplied as Standard
Optional built in relief valves in end cover (from 250 to 3000 psi)
Optional regulated flow with relief on end cover.
Replacement V10 Cartridge kits from 1 to 7 GPM all sizes $499 (call 07 5563 1982)
Replacement Shafts, Straight, Tapered and Splined from $199 (call 07 5563 1982)
Delivery flow of 1 to 7 GPM (3.78 l/min - 37.85 l/min) @ 1200 RPM
Shaft speeds form 1200 - 4500 RPM *(depending on Cartridge Size)
Power Requirements and Flows at max RPM and Max Pressure of 2500 psi (170 bar)
7 HP (5 kW) for 1 GPM cartridge @ 4800 rpm = 3.6 GPM (13.6 Lt/min)
14 HP (10 kW) for 2 GPM cartridge @ 4500 rpm = 7.3 GPM (27.6 Lt/min)
18 HP (13 kW) for 3 GPM cartridge @ 4000 rpm = 9.4 GPM (35.5 Lt/min)
20 HP (15 kW) for 4 GPM cartridge @ 3400 rpm = 10.9 GPM (41.2 Lt/min)
23 HP (17 kW) for 5 GPM cartridge @ 3200 rpm = 12.8 GPM (48.4 Lt/min)
26 HP (19 kW) for 6 GPM cartridge @ 3000 rpm = 14.6 GPM (58.2 Lt/min)
28 HP (21 kW) for 7 GPM cartridge @ 2800 rpm = 16.0 GPM (60.5 Lt/min)
Multiple input shaft options, Taper, Splined - 5/8" 9T, 3/4" 11T, 7/8" 13T, Parallel shaft with straight and woodruff keys.
All Parts are fully interchangeable with Eaton, Vickers, Cessna V10 Vane Pumps.
These are an Ideal replacement for a Vickers pump as well as an alternative for cost effective spare parts.
For all parts inquiries please email us directly at (sales@mhfgc.com.au)
Or Call (07) 5563 1982.
Save this product for later
All your hydraulic needs in one place! Search products or browse categories below
Products on Hydraulic.Online are described and explained in non technical terms, with photos, charts and or videos. Most of our clients also tend to upgrade to more complete systems this is because they can pick up a phone and call us for a consultation. Call us and experience it for yourself! Australia +61 (07) 5563 1982.
(Hours 8am – 4pm Monday – Friday AEST, excludes National & QLD public holidays)