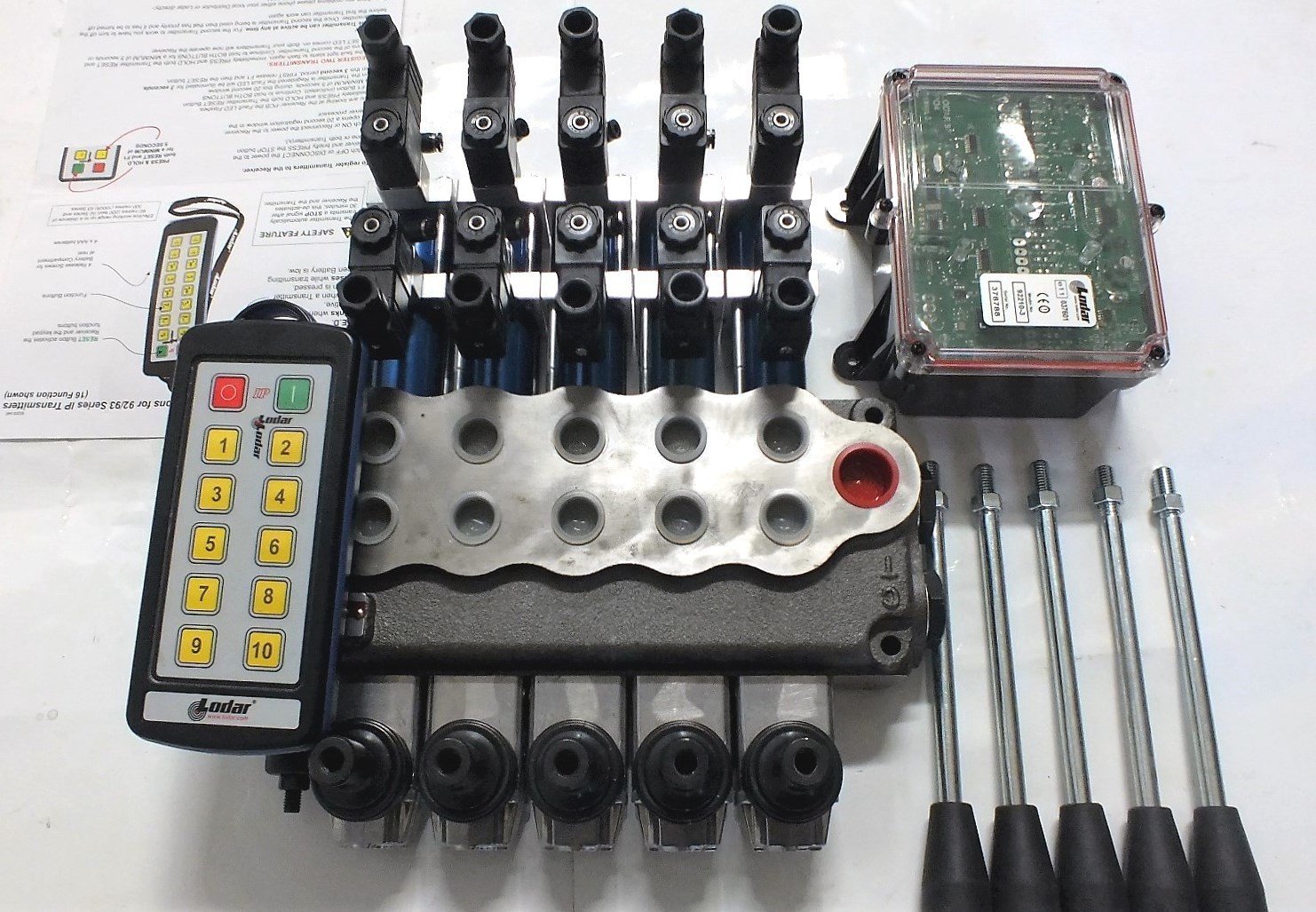 REMOTE CONTROL 5 SPOOL MONOBLOCK VALVE 80LPM TILT TRUCKS , READY FOR FITTING
SKU remote + 5spool
Product Details
Ready to fit Remote control Monoblock control valve
This is a brand new 5 bank high quality 80 litre per minute valve complete with 10 button remote control unit. It is designed for Tilt Tray Trucks, Cranes. Skip Bin Trucks, Front end Loaders, Backhoes or any application where you need to control 5 individual cylinders or hydraulic motors (ie winches). This unit can replace most medium to large tilt truck existing spool valves. Simply bolt on, either re attach your existing hoses, or worst case buy adaptors (we can supply cheaply) to make your hose threads compatible. The remote unit simply needs compressed air supply, power, 12 or 24 volt, & basic wiring to the valve solenoids. The only other item needed is 4 mm nylon tubing from your air supply to the solenoids. Our valve solenoids come complete with push fit air fittings. The remote unit come with fitting instructions
These valves are regularly used in hydraulic circuits to divert the flow of high pressure oil and are typically used to control the speed and movement of hydraulic cylinders or motors.
Specifications
Construction = Monoblock
Material of Construction = Steel
No of Spools = 5
Material of Construction = Case Hardened Steel
O-rings made of NBR (Buna-N®)
Max Flow Rate = 80 liters/min (20 Gallons per Minute)
Max Working Pressure = 315 Bar (4725 PSI)
Spool Type = Cylinder
Spool Movement = Lever action, No Spring Return to Center.

Built in Relief Valve = Adjustable (factory set at 175 bar 2500 PSI)
Ports Sizes
Pressure Port 3/4" BSPP
Cylinder Ports 3/4" BSPP
Tank Port 1" BSPP
Power beyond port 1" BSPP
Operating temperature range: -20 °C to + 80°C

Dimensions = L x W x H = 250 x 200 x 60 mm

Weight 18 KG

Detent Kits also available at $60 each
Power beyond plug $23
Please call 0755631982 or send us a question via Ebay for different spool configurations, spool numbers and costings.
Many types of adapters threads, hydraulic hose and field fit hose fittings available please see our other listings
This a High Quality Valve and has many outstanding features, including.
built in adjustable relief valve
high performance,
high efficiency,
small volume,
mass flow,
leak resistance.
Features
Compact construction.
Low pressure drop.
Long service life.
High efficiency.
Choice of various ports and circuit valves.
High accuracy spool is hardened for long term accuracy.
Sub-plate mounting.
Handle shift operation.
These 80 LPM valves require a separate "Power Beyond" sleeve to operate a valve downstream.
Detent is when a you push/pull a lever, it stays forward/back at that position until you move it back to the centre.
Installation ; As per the listed photos, there are a choice of two pressure ports "P" (only use one), two "T" Tank return ports and also there is a "C" port. This "C" port is for the: Power Beyond function. This allows another valve to run pressure from this C port downstream if necessary. (must be a lower volume though). A & B ports run to your cylinder or other functions.
OUR EMAIL IS – HoseFixersAustralia@gmail.com
Additional information about us...
Tax invoices are supplied with every purchase
Emails will be answered within normal business hours (ie: 8.30am - 5.00pm M-F)
Save this product for later
All your hydraulic needs in one place! Search products or browse categories below
Products on Hydraulic.Online are described and explained in non technical terms, with photos, charts and or videos. Most of our clients also tend to upgrade to more complete systems this is because they can pick up a phone and call us for a consultation. Call us and experience it for yourself! Australia +61 (07) 5563 1982.
(Hours 8am – 4pm Monday – Friday AEST, excludes National & QLD public holidays)